Editors' comment: One exciting aspect of marine seismic is the continual technical improvements the marine seismic contractors bring to market. The following is an update from CGGVeritas, and we hope to publish similar submissions from the other marine acquisition companies in future issues.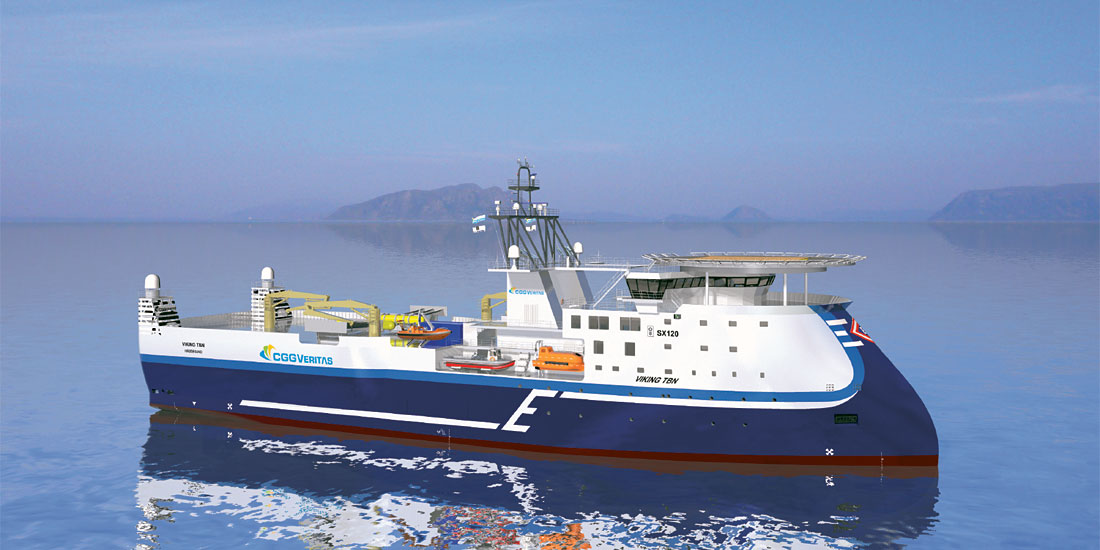 The creation of the CGGVeritas marine acquisition capability produced not only the largest fleet of seismic vessels in the industry, but also the most flexible and adaptable fleet in terms of streamer capacity and acquisition configurations. The company is currently in a position to offer vessels all around the world, optimizing global vessel availability and servicing the whole range of market demands. The specific geophysical requirements of any market or project can be met, including long-offset, single-streamer 2D; high-capacity multi-streamer 3D; densely sampled highly repeatable 4D; and wide-azimuth, multi-azimuth, high-resolution and long-offset surveys for imaging complex substrates. Thus the Company's fleet, with its combination of availability and flexible configurations targeted at specific market segments, affords us an unrivalled capability to provide the service our Clients expect.
Through the difficult years in the seismic industry, as seismic spending dramatically decreased, it became an industry characteristic that seismic vessels were rarely retired, but were continually renewed and modified through cycles of upgrades and re-builds. We are now entering a new era where our clients increasingly recognize the value that advanced seismic technology can bring to the reduction of risk associated with exploration and development. Accordingly, CGGVeritas commenced a program to not only expand our global marine acquisition capability and to align our fleet performance with the high-end requirements of the market, but also to achieve strategic fleet renewal.
Today, having been active in continuously upgrading our fleet for optimum performance, we are moving ahead with our renewal program. This consists of progressively retiring the older, less flexible hulls in our fleet and replacing them with high-end, advanced specification vessels specifically configured to deliver optimum performance and to comply with, and surpass, industry requirements far into the future. CGGVeritas is perfectly placed to follow this strategy, as we own many of our vessels and the charter periods for the other vessels are offset, so that we retain maximum flexibility regarding our fleet size and configuration over the next ten years.
One of the global concerns receiving more and more attention is the protection of the environment and the reduction of our impact on the environment through our business activities. This is a principle to which CGGVeritas is committed as a company, across all our operations, and which is also at the heart of our fleet renewal strategy. This is epitomized in the new vessels which we have committed to building and which will be launched in 2010, targeted to replace older vessels at this time, as an integral part of our fleet renewal program.
The new vessels will be based on the Ulstein X-Bow® design, and will have the lowest possible impact on the environment of any seismic vessel in existence, and will also provide superior internal environmental conditions. Although there are other vessel models which use the distinctive X-Bow® shape, CGGVeritas has secured exclusivity of the seismic research vessel SX-120 design from Ulstein Design AS, and the vessels of this designation will be unique to CGGVeritas. The vessels will have many advanced specifications and innovative features, and many of those features reflect our dedication to minimizing environmental impact, and to the health and safety of our people, which form the core of our strategy for the future.
The revolutionary Ulstein X-Bow® is designed to travel through sea surface waves in a smooth, uninterrupted manner, reducing slamming of the bow and the consequent surging motion of the vessel, and variations in speed through the water. This leads to lower pitch and heave accelerations, greatly increased sea-keeping capabilities, lower turbulence in the wake zone, less spray on the aft decks, and significantly reduced noise and vibration throughout the vessel. These characteristics improve all the fundamental components of vessel performance-safety, the environment, comfort, efficiency, fuel consumption and sea-keeping qualities. The vessel will have a "CLEAN" designation from DnV, and will be characterized by low vibrations and noise in the interior spaces, lower pitch and heave motions, low emissions and low fuel consumption. These factors all contribute to greater comfort and safety for those working onboard, the lowest possible environmental impact, constant speed and line-keeping for seismic acquisition integrity and greatly reduced "snap" loading on the towed equipment as the vessel motion is transmitted to the front-end of the seismic spread.
The CGGVeritas SX-120 vessels will be purpose designed and laid-out for the safe and efficient handling of Sercel's industry-leading solid streamers, and, combined with the low noise footprint of the vessel and low turbulence in the wake zone, this will result in superior quality data acquisition, unsurpassed by any other technology in the industry. This performance will also be achieved in higher sea states, due to the stable and smooth performance of the hull in rougher seas, increasing productivity and maintaining superior safety and quality standards. Sercel's solid streamers also help maximize quality and minimize the impact of our operations on the environment, adding to the benefits to be provided by these unique and innovative vessels.
CGGVeritas is looking forward to introducing these advanced vessels into our fleet in 2010, and to progressively retiring older vessels with lower specifications and less capability to lead changing industry requirements. In this way, we shall continue to strengthen our position in the industry and extend our capability to provide innovative and technically superior solutions to our clients in a safe and environmentally responsible manner. With a sustained commitment to new technology, combined with an innovative approach to acquisition methodology and project management, we are able to maintain and further our position as the world's leading marine acquisition service provider.