A streamlined exploration process is paramount to the success of any oil and gas company, and high performance compute infrastructure is the key to speeding up exploration. Fast CPUs, large memory footprints, speedy access to memory, precision graphics and technology to optimize compute resource utilization all contribute to faster compute infrastructure and faster exploration. Sun is committed to bringing cost-effective, advanced technologies to market that deliver the compute infrastructure performance oil and gas companies need in order to succeed.
Faster Application Performance
Processor Performance
With the recent introduction of Sun Microsystems' workstations and servers based on the AMD Opteron Microprocessors, customers now have access to extremely high performance x86 64-bit computing at compelling prices. Recent Spec CPU 2000 performance benchmarks confirm that Sun Java[TM] Workstations (Fig. 1) with AMD Opteron processors are the fastest workstations for real world applications in the industry (Fig. 2). Sun and AMD have redefined the rules to deliver an affordable range of high performance 64-bit Sun workstations and servers featuring industry leading performance and a wide variety of microprocessor technology enhancements that will run oil and gas applications with extreme levels of performance.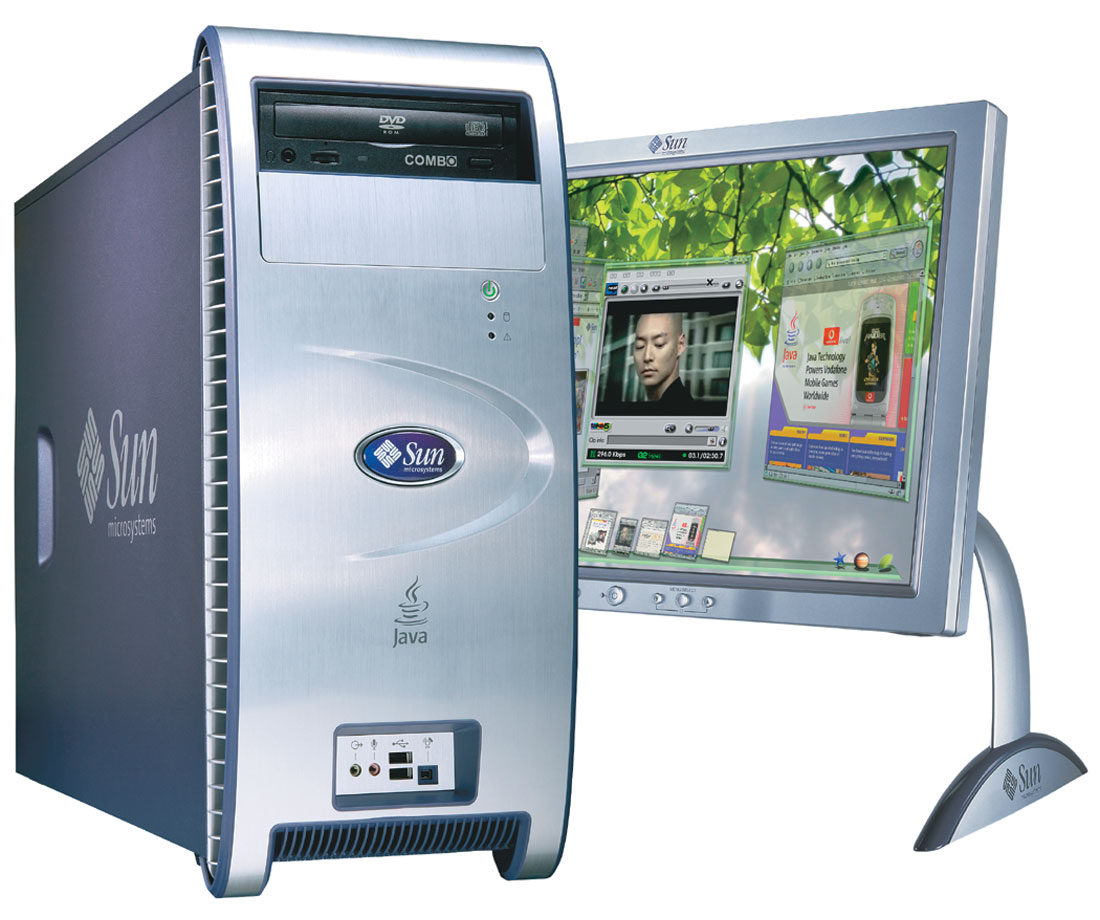 Memory Advancements
Oil and gas compute infrastructure relies on large memory footprints and fast access to memory in order to collect and analyze the data necessary to speed exploration. For many years, the computer industry has witnessed an imbalance between the advancements in microprocessor clock speeds (Moore's Law states that the doubling of microprocessor speeds occurs approximately every 18 – 24 months) and the far slower improvements in system memory bandwidth. As a result, more applications have become memory bound, and processor speeds have had little impact on overall application performance.
AMD Opteron-based Sun workstations and servers have been designed to improve this balance between processor speed and bandwidth. Two key features which contribute to the balanced system performance of the AMD Opteron processor are the integrated memory controller and the revolutionary Hypertransport system interconnect.
Scalable Memory Bandwidth
Integrating the memory controller into the AMD Opteron processor helps to lower latency and increase effective memory bandwidth. In addition, by eliminating the FSB, the memory controller no longer runs at the bus speed, but at the processor clock speed.
This approach also delivers direct memory bandwidth scalability for multiprocessor systems. Every processor that is added brings an additional memory controller to the system. Each processor has an independent connection to its local memory, so the memory in the system is physically divided among the processors. When a processor wants to address memory associated with another processor, the request goes through the HyperTransport Bus and is handled by the local memory controller. Using this approach, the processors do not have to contend with a single central memory resource.
High-Performance Chip-to-Chip Interconnect
HyperTransport technology is a high-speed on-chip interconnect that facilitates communications between processors and I/O devices with low-latency point-to-point links that operate up to 48 times faster than some existing technologies. HyperTransport processing is on-chip but occurs in a separate unit from the processor core, so that interconnect processing transpires without interrupting the memory controller or the processor. This technology was invented at AMD with contributions from industry partners, and is managed and licensed by the HyperTransport technology Consortium, a non-profit corporation. Sun is a strong promoter of HyperTransport technology and a charter member of the HyperTransport Technology Consortium.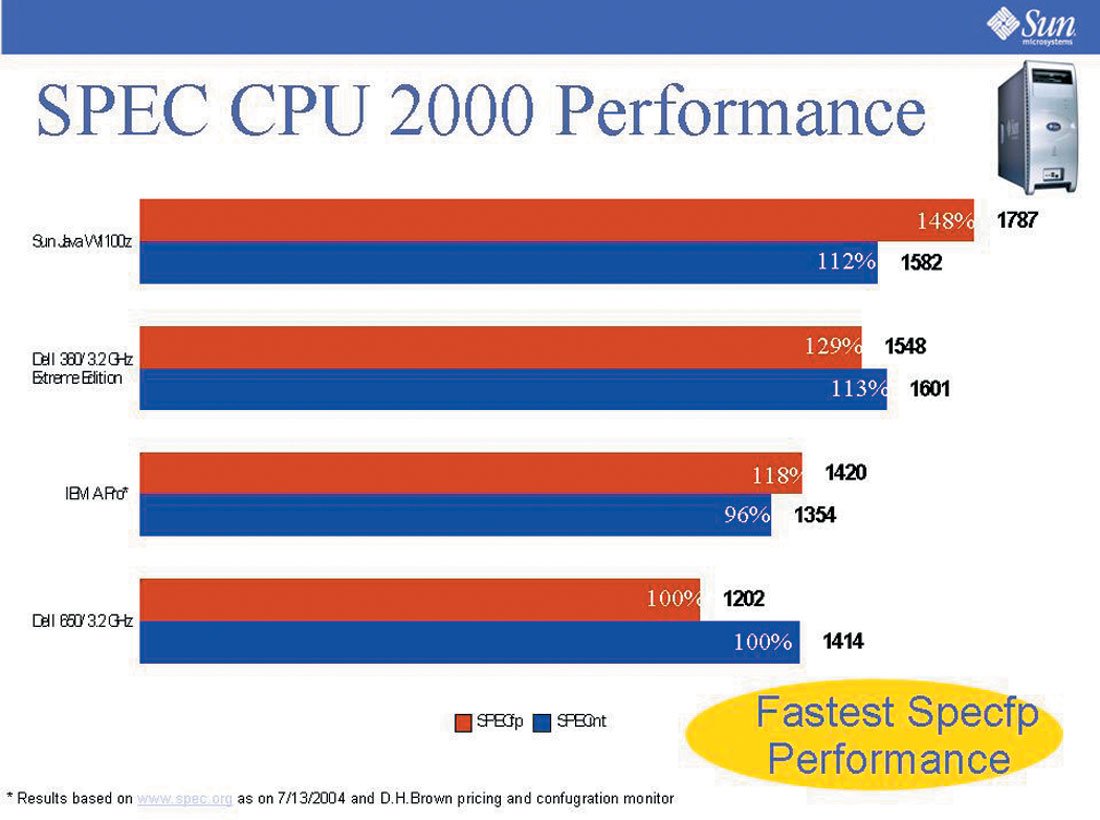 Precision Graphics
Today's petroleum explorations depend on applying state-of-the-art interactive visualization techniques to vast seismic data sets, while searching for hidden fossil fuel reserves. The ability to understand underlying geologic strata leads to better drilling decisions, as well as lower exploration and operating costs. Maximized reservoir yields and improved capacity utilization are the result. Sun has teamed with NVIDIA, the industry leading graphics solution company, to deliver the industry's best image quality for our AMD Opteron processor based workstations.
Maximizing Compute Resource Utilization
Grid Computing
Beyond increasing processor power and memory, maximizing utilization of compute resources is another opportunity for oil and gas companies to streamline the exploration process. There is no industry more technologically savvy than oil and gas – and that technical expertise is underscored by one simple fact: while the rest of the world is just know waking up to the power and possibilities of grid computing, upstream oil and gas exploration has been utilizing grids for more than two decades.
For a variety of compute-intensive jobs, notably seismic processing and reservoir characterization, grid computing enables petroleum companies to analyze data with tremendous accuracy in a fraction of the time of traditional high performance systems – a key concern given the high cost of drilling wells. And for reservoir simulation applications, where job runs can sometimes be measured in terms of weeks, grid computing is simply an essential tool in today's data-hungry exploration environments.
Yet tracking and applying system images and software updates, deploying new services, and monitoring the health and performance of entire rooms of racked volume servers can challenge even the most skilled administrator. Oil companies face particular challenges in controlling the massive amount of data that goes into oil and gas exploration, as well as tracking data version and information from various downstream departments. Most challenging of all is getting the maximum efficiency from every processor on the grid – as well as all the connections in between.
Sun has always understood how critical it is to take a holistic view of high performance computing problems, bringing expertise and experience to bear on the entire processing flow – from the data living on tape, to migration to disk, and back to tape again – enabling geoscientists to wrest more compute power from their existing infrastructure. Grids deliver a wide range of benefits for energy organizations that traditional computing models can't, including:
Better resource utilization
In oil and gas exploration, performance counts. With billions of iterative calculations that go into building a complete picture of what lies below the subsurface, geoscientists need to get all the usable power they can from their systems and workstations. Upstream organizations that opt for grid computing can manage distributed resources extremely efficiently and do more calculations to shorten the time to project completion.
Enhanced productivity
Users often lose time hunting down resources and manually scheduling and managing compute jobs. With grid computing, users can concentrate on the job of creating more accurate subsurface models, ultimately increasing their productivity.
Scalability
Grid computing enables capacity to grow to up to thousands of processors, virtually seamlessly. Additional nodes can be added incrementally, allowing companies to purchase only the technology they need at any given time.
Sun offers a complete Grid solution, combining an integrated, custom-built hardware and software stack, a powerful management framework, best-practice methodologies, and tested, proven reference architectures. These Grid technologies enable geoscientists to access all the compute power they need, when they need it, thereby making the most of the resources they already own, while allowing them to deploy new resources quickly and easily.
Open Systems Flexibility
Like many technologies made openly available to the developer community, Linux has received a great deal of interest and gained a significant following. At the same time, many customers choose to deploy the proven Solaris[TM] OS for performance and scalability reasons. Adopting the best deployment platform for a given application is critical to project success. Sun offers the flexibility to build optimized systems and workstations by delivering a family of operating systems – with multiple options based on an open platform.
Sun's Operating System Offerings
Solaris OS (SPARC or X86 Platform Editions)
Red Hat Enterprise Linux
SuSE Linux Enterprise Servers
An application's characteristics determine where and how it is deployed. Mission-critical applications demand highly available platforms, while others need only moderate horizontal scalability. Some applications require minimal security, yet others demand that stringent access control rules be followed at all times.
Evaluating requirements and making the right decisions that result in the best pairing of platform to problem is essential to success. Making that goal a reality means having the flexibility to optimize the environment. Sun's operating system offering gives companies the freedom to choose the right platform for the job at hand.
The Solaris OS – Low Cost Without Compromise
For more than ten years, the Solaris Operating System has delivered the power, flexibility, availability and compatibility oil and gas companies need to support enterprise-wide computing. It combines key computing elements - operating system, networking, security, and user environment – into a stable high quality foundation that companies can depend on to develop, deliver and manage both business-critical and mission-critical applications. The Solaris OS is the leading UNIX environment and it's available for SPARC, Intel Xeon and AMD Opteron processor based systems and workstations.
Best-in-Class Linux
Sun's Linux strategy is to capitalize on the strength and market penetration of existing platforms and leverage community efforts. To this end, Sun offers several Linux options, including Red Hat Enterprise Linux and SuSE Linux Enterprise Server 8, providing oil and gas companies the freedom to choose the right platform for their business needs. By using standard Linux distributions, Sun customers will have immediate access to the applications written to them. Just like other Sun products, Sun offers full front-line support for both Red Hat Enterprise Linux and SuSE Linux Enterprise Server 8, with back-line support from each company.
Exploration Excellence
Fast accurate exploration is key to oil and gas company success, and high performance compute infrastructure can help streamline the exploration process. Sun's advancements in processor and memory performance, Grid computing technology and expertise, industry leading graphics and choice of operating systems are helping oil and gas companies worldwide build the solutions they need to excel in exploration.

Acknowledgements
Sun, Sun Microsystems, the Sun logo, Java and Solaris are trademarks or registered trademarks of Sun Microsystems, Inc. in the United States and other countries.
About the Author(s)
Mr. Weston graduated from the University Of London, England, in 1975 with an honours degree in Geology And Geography. From there he went on to work for Sclumberger on their international staff as an oil-wellsite geologist. With Schlumberger, he was involved in the use of computers in the analysis of well logs and monitoring of oil well drilling activities. In 1979, he joined a private consulting firm dedicated to writing geological and mapping-related programs for the Oil industry. In 1982, he started working with the UNIX operating system, porting programs and administering systems. By 1987, he had started work for the Sun Microsytems distributor in Venezuela as their software manager and chief administrator.
Mr. Weston then moved to California with Sun Micro systems, working as technical support manager for Latin America. In 1994 he relocated to Caracas to open the Sun office in Venezuela and manage Sun's reseller channels in Venezuela and the Caribbean. In 1996, he relocated to Buenos Aires to open the office for Argentina and Uruguay and had the position as Director of Marketing for the Mercosur region.
On his return to California, Mr. Weston joined Sun's "Corporate Accounts" division with special responsibility for BP and Royal Dutch Shell Group. Today Mr. Weston heads up Sun's strategy for the entire energy industry on a global basis.
About Sun Microsystems, Inc.
Since its inception in 1982, Sun Microsystems Inc. has been a leading supplier of industrial strength hardware, software and services to the energy industry. Sun, along with its extensive partner community, provides some of the largest companies in the world with a range of solutions across all aspects of the industry -- from high performance technical applications to large scale ERP or CRM systems.
Sun and its partners provide technical solutions in the upstream segment of the industry for the initial exploration of hydrocarbons, as well as large scale ERP systems in the downstream segment. Whether a customer needs technical workstations or advanced SCADA systems, Sun Microsystems has a reliable and secure solution that will scale as required.
More information about Sun Microsystems, Inc. is available at http://sun.com.