Happy March! I wanted to say a big congratulations to my fellow RECORDER columnist and friend Carmen Swalwell on her recent election to the CSEG Executive as (Assistant) Director of Communications! I look forward to working with you (and your fellow executives) over the next two years, and seeing how you will steer our society through the current economic environment.
Doodlespiel 2016 RECAP
The 44th annual 2016 Doodlespiel has now come and gone and this year we had 64 teams with over 275 participants. The host town of Banff and the Banff Curling Club again created an amazing venue for the Doodlespiel that was enjoyed by all. This year's Doodlespiel underwent a few changes to adjust to the new challenges our industry is currently going through, yet it was met with positive feedback by all involved. I believe this goes to show that the Doodlespiel is still a favoured event, and that sponsors and curlers alike are more than willing to contribute during tough times. Our CSEG community is truly a unique one, and we are fortunate enough to hold these events that support our network. This manifested itself this year, especially in the form of everyone's contribution to the charity we supported – the CSEG Foundation. Over $3,030.00 was raised to help support the CSEG Foundation's Scholarship program. This by far superseded our expectations, and although not surprised by our industry's generosity, we were proud to be a part of it. Larry Herd, a past Doodlespiel Chairman, went above and beyond by matching the entire contribution that we raised, bringing the total donation to over $6,060.00. Thank you Larry for your generosity!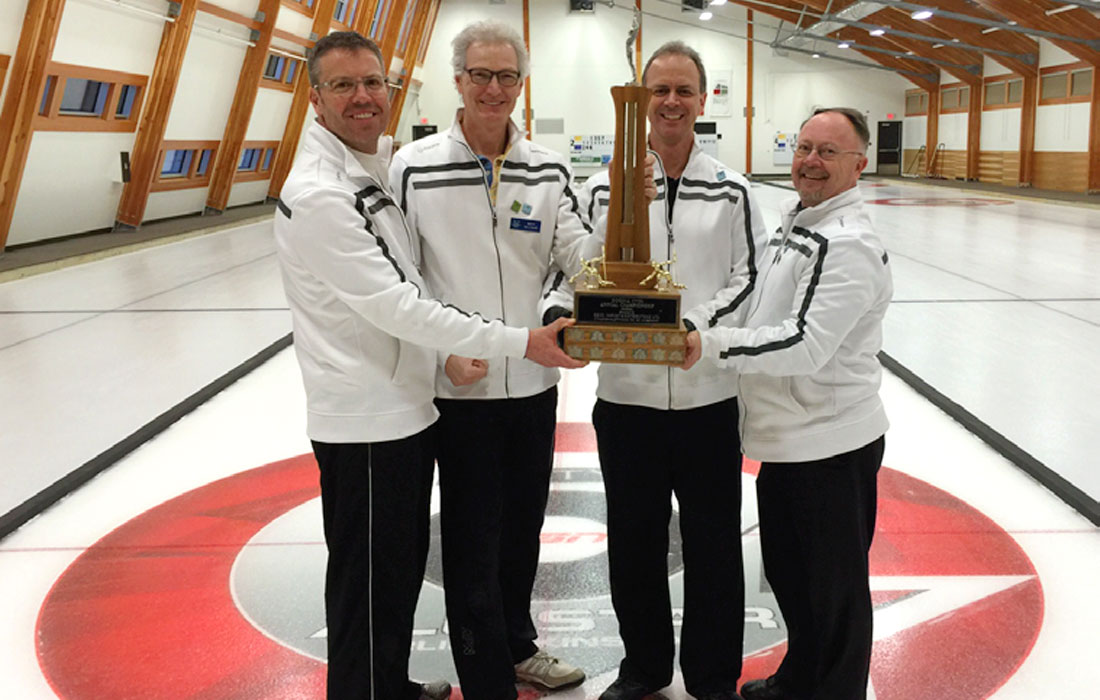 The A event final had the Nordin rink against the Rasmuson rink and it was an exciting back and forth game as the lead changed hands several times. In the end the Nordin rink consisting of Dave Nordin, Al Bunn, Ken Mitchell and Kevin Brooks won the A event. This win is the first Doodlespiel win by the Nordin rink.
Other event winners include:
B Event = Clare Bowie, Dennis Meisinger, Peter Ciavarella and Greg Davidson.
C Event = Sterling Hansen, Matt Ng, Igor Senek, Blayne Wagemakers and Daniel Perez.
D Event = Brian Lau, Shelton Shmitt, Barry Ryan, Warren Kozak and Jeremy Anderson.
Team Spirit awards were a 3-way tie between: Team Manchul – Miss Interpreted, Team Waggott – Star Wars and Team Bown – Sportsmanship.
As Chairman of the 2016 Doodlespiel, I would like to take the opportunity to thank all of the sponsors of the2016 Doodlespiel. Without the continued support of the industry, this great event would not be able to continue. Sponsorship and overwhelming participation of our industry continue to make this the largest curling bonspiel in Western Canada. As outgoing Chairman I am confident that next year's Doodlespiel committee will no doubt deliver another excellent event. The committee wishes everyone a safe, healthy and prosperous 2016 and look forward to seeing everyone in Banff for 2017.
Matt Ng,
Chairman – 2016 Doodlespiel
Daniel Perez,
Finances – 2016 Doodlespiel
Women in Seismic – SAVE THE DATE!
The WiSe golf tournament will be held on Thursday, September 8th at the Fox Hollow Golf Course in Calgary. This annual event gives both players and sponsors the opportunity to interact in a fun-first game, while helping raise money for Breast and Ovarian Cancer research.
In recognition of current economic times, we will be reformatting the tournament to make it more financially viable for our players, and to maximize the FUN. This year, we will be having a 9-hole tournament, starting at 8:30am, and followed by a wind-up lunch. Registration will be open by March 15th, 2016, and registration will be capped this year at 72 players, and we will accept full teams, trios, pairs and singles!
If you are interested in raffle/team prize donations or sponsorship, please contact the following:
Prizes: Caroline Mongrain (caroline.mongrain@katalystdm.com)
Sponsorship: Kristy Manchul (kristy.manchul@geomage.com)
We look forward to spending some quality time on course with you in September!
Trish Mulder,
2016 WiSe Chairman
trish.mulder@katalystdm.com