This is the February column, but I am writing this at the end of December. What a year it has been! I just finished my first full year in a new job that I love. Paul and Allan, thanks for hiring me! I am really looking forward to the next year. For those of you that know me, my personal life (which doesn't stay too personal in this business) is extremely happy. (Thanks to a certain geophysicist that shall remain nameless) To quote a good friend of mine, Life is Good!
Once again, people have been complaining about my picture! I mentioned it to my mother, and she made sure I had some new pictures taken. She picked this picture out, so if there are any complaints please contact her directly. Her name is Kathy and her email is swalwell@shaw.ca And yes, I have changed the color of my hair again.
ON THE MOVE...
Penny Colton announces that she has left her previous interesting and challenging role as Manager of Geoscience Affairs at APEGGA to allow a return to a more active industry role as an exploration geophysicist or as a consultant. Penny will continue several geoscience initiatives as a volunteer, and is currently on the Council of the Geological Association of Canada. She invites colleagues to contact her at 278-8755 or by email at penny@xploratech.com or coltonp@shaw.ca.
Kelly Hrabi has joined Northrock as a Senior Geophysicist in our South East Saskatchewan group. Kelly brings to Northrock a strong track record of successful exploration experience throughout the Western Canadian Sedimentary Basin with PanCanadian and most recently with Apache Canada. Kelly has a Bachelor and Master of Science in Geophysics as well as a degree in Engineering. Working with his fellow team members, Kelly will be responsible for developing and implementing Northrock's exploration and exploitation programs in South East Saskatchewan. You can reach Kelly at 213-7448 or hrabi@northrock.ab.ca.
I received the following update just before Christmas from Marko Mah from Veritas who has recently been transferred to Singapore. CS
I've arrived in Singapore and have been working here for about a month now. The weather here is really nice. I was in the Singapore Botanic Gardens and it was +31 with 70% humidity. The temperature at that exact moment in Calgary was about -17. The food here is so good and the variety is excellent. The people here are really friendly but they can some how tell I'm I tourist. Besides the way I dress, the camera, and the Canadian accent, I can't figure how they know I'm not from around these parts ....
Another interesting aspect of Singapore besides the weather and the food is the ethnic diversity and religious/cultural tolerance. There are people from a variety of different ethnicities, cultures, and religions working and living next to each other with no obvious significant tensions. The picture is of me sipping on a Thai coconut in Little India. They chill the coconuts and then they chop the top until there is a hole big enough for a straw. It is quite a delicious and refreshing drink. I always get one when I pass by.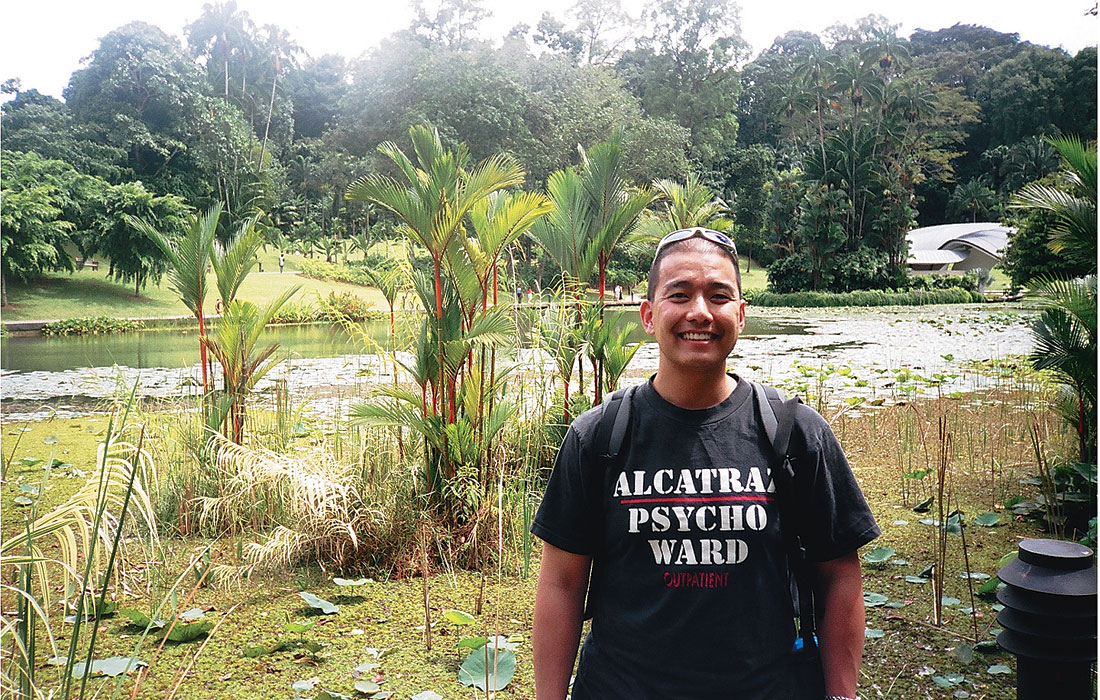 As for work, they've made me a "Depth Imaging Project Leader". I'm still trying to figure out what that means. My experience in Calgary has been focused on depth imaging thrust belts in the WCSB or imaging beneath permafrost in the Mackenzie Delta area. Currently I'm working on depth imaging projects on marine data in South East Asia/Australia region. It is quite a change.
I've just moved into my new place this past Thursday and have also just finished my vacation planning for Christmas. I'm going to Hanoi from the 24th of Dec to the 2nd of January.
Cheers,
Marko Mah
Depth Imaging Project Leader, Veritas DGC Asia Pacific
Singapore
Telephone: (65) 6890 5515, Facsimile: (65) 6890 5550
E-mail: marko_mah@veritasdgc.com
GEOSEIS Inc. is pleased to announce the appointment of Jake Doruiter as Manager, Data and Technology Integration Services, a newly created group offering consulting services, technology support and training to the Petroleum Industry. Special focus will be given to introducing new integrated workflows and leveraging emerging technologies such as OpenSpirit, Spotfire and PointCross.
Mr. Doruiter leads a bright and capable team of multidisciplinary professionals whose mission is to enable GEOSEIS E&P clients to manage, utilize and integrate geological, geophysical, petrophysical, engineering, production, land, GIS, and financial data more quickly and effectively. Typical interpretation and modeling suites used by our clients and supported by Jake's integration team include AccuMap, ArcView, geoScout, Interactive Petrophysics, Petrel, Osprey, SeisWare, Surfer, Tralaine, IESX, SeisWorks, SeisX, WinPICS, KINGDOM, GeoFrame, OpenWorks, and Eclipse. His group specializes in datum migrations between NAD27 and NAD83 for all required data types involving these systems.
Mr. Doruiter brings 10 years of Canadian and International industry experience to GEOSEIS gathered in previous roles at Paradigm Geophysical Ltd., Petrosys Canada Inc, Schlumberger Information Solutions and as an independent consultant. Jake can be contacted at (403) 539-0276 and at jdoruiter@geoseis.ca.
Characteristic of how quickly news travels in this city, Carmen somehow tracked Paul Anderson down during his second day at Apache Canada Ltd. (Carmen was on holidays the first day). Paul has accepted the role of Seismic Processing Geophysicist, where he will be responsible for Processing QC, AVO analysis and Rock Properties Studies at Apache. You can reach Paul at 303-4736 or Paul.Anderson@apachecorp.com.
Bryce Davis joined Aguila in June of 2005 in a business development role. Bryce's extensive experience in sales and marketing has made his transition into the industry a very positive one, "everyone is very gracious and willing to help in any way possible". Aguila provides Exploration and Development Project Management through Seismic Data Acquisition Project Management and most recently through Integrated Geological and Geophysical Technical Services. Aguila is active in the Western Sedimentary Basin and many others around the world. Bryce can be contacted at bdavis@aguila.ca; Tel: 403-232-6222; Cell: 403-589-0088.
ECL Canada is pleased to welcome Ken Titchkosky as Seismic Processing Operations Manager. He brings 36 years of seismic processing experience to ECL-RPS Energy, a completely independent broad-based consultancy that offers exploration and production services in Calgary through ECL Canada. Ken can be reached by phone: +1 (403) 444 4818 or by email: k.titchkosky@ecqc.com.
New Ticket Coordinator...
After doing a fantastic job as the volunteer ticket coordinator for the CSEG Technical lunches, Lisa Eastman (Geo-Tir) has stepped down. I (Carmen Swalwell, Precision Seismic Processing) will be taking over from Lisa as the coordinator. ( yes, I am a sucker for punishment) On behalf of all the membership I would like to thank Lisa for all of her efforts! You certainly did a great job and have left everything completely organized. Thanks are also extended to Susan Eastman (Geo-Tir) who took over from Lisa while she was on maternity leave. You did a great job ladies.
If you would like to order tickets for any of the upcoming luncheons you can do so on the CSEG website at www.cseg.ca On the home page there is a link to upcoming lunches. There is an order form there. Simply fill it in and fax it to me. The deadline for tickets sales is noon the Wednesday before the lunches. Unfortunately, it is impossible to take any tickets orders or provide refunds after that time. One thing that I was not aware of is that there are two tables set aside (with no food service) near the door for late arrivals or people that did not purchase tickets.
If you would like to receive a monthly email with a short biography and abstract of the upcoming luncheon presentation, please email me. I will add you to the list. If you would like a ticket(s) sent automatically sent to you each month please let me know. CS
Moving up in the World...
Paul Einarsson, Chairman and COO of Geophysical Service Incorporated ( GSI) is pleased to announce the following promotions/ appointments.
Allan Feir, Vice President and Processing Center Manager of Precision Seismic Processing
Allan brings 34 years of diverse seismic experience in the domestic and international geophysical industry. His diverse background includes technical as well as managerial roles in acquisition and processing. Allan has been with Precision Seismic Processing since 2003.
Shu-Wai Tong, Group Leader Marine Processing.
Wai has 28 years of processing experience and has been with Precision Seismic Processing since 1997.
Precision Seismic, a wholly owned subsidiary of GSI, functions as GSI's data processing division. The Precision service offerings include land 2D/3D and marine processing capabilities. Based in Calgary, Precision provides seismic data processing services to the domestic and international oil and gas industry
Geophysical Service Incorporated provides 2D and 3D marine seismic surveys on both a speculative and contract basis to the oil and gas operators. Services include; speculative seismic project planning, seismic acquisition and leasing of seismic data source and electronic recording equipment.
Can You Help?
Mustard Seed – Storefront 101
The Mustard seed provides a program called Storefront 101 which is a University Discovery Project. The purpose is to provide a university level course for people of low income. The courses are in the Humanities and are given credit at the 100 level through St. Mary's University College.
Many students are unable to provide some of the basic necessities to facilitate studying. There is a need for book bags, satchels and backpacks (small) to carry materials to and from class.
If you or maybe your colleagues have CSEG/CSPG giveaway bags that could be recycled in a positive way please let Ken Whitehouse at Suncor Energy (269-8659; kwhitehouse@suncor.com) know and he will get them to the folks running this program.
How I Got Involved In Geophysics...
This portion of the Tracing the Industry column is where people share how they became involved in this strange industry. Geophysics seems to be an "accidental" profession. Not many seem to start out with the goal of becoming a geophysicist. Each month I like to have someone trace their pathway into geophysics. If you would like to share your story, please let me know! CS
Jerry Spring, Canadian Forest
There's an old saying to the effect that, "if you don't know where you're going, that's probably where you're going to end up." Not only was this true for my university days, but also for my career path. The problem was that everything interested me, but nothing seemed to stand out above the rest. I started out in a "Liberal Science" program at York University in Toronto, but soon learned that it didn't lead anywhere. A first year physics professor quickly pointed this out, two weeks into my second year, and before I knew it, I was doing a specialized honours degree in physics. Upon graduation, I had to decide between a Master's in physics (with a 2 year NSERC scholarship in hand) or a job as a geophysicist, working for Amoco in Calgary.
I had a pretty good idea what was ahead of me, should I choose the path to academia: poverty. On the other hand, I had no clue what a geophysicist did and why they would pay me so much. I recall in the interview that the job would involve, "going out to the field, collecting seismic data, bringing them back to the data processing centre, and carrying out a series of corrections before the data could be interpreted." As I wanted to make a good impression, I responded that I would work hard in the field so that the data wouldn't require any corrections. A few days on the job and I figured out why the interviewer had had such a good chuckle. With the promise of new adventure in a new city (Calgary), comprehensive training as a geophysicist, a promising career path in one of the world's leading energy companies and a salary so big that I would never have to eat Kraft Dinner again, I decided to take Amoco's offer.
It was the summer of 1980 and I soon realized that I was among a large group of new hires and summer interns. Several had advanced degrees in geology or geophysics, but there were a few of us "non-geo" types that had to start at the beginning. A few days into the job it was announced that there was a geological field trip to the mountains and that all new hires were required to go. I was given the choice of going on the "clastics bus" or the "carbonates bus". Never having heard the terms before, I requested going on the "plastics" bus – thinking this might have something to do with some sort of deformation. I was soon relieved to learn that I wasn't the only one who had never heard these terms and we all decided to pay close attention to the lectures. The next day I went out and bought a book on basic geology.
Before long I found myself attending one or two week long training courses in Amoco's training center in Tulsa. It was here that I learned new terms such as "unconformity" and "facies". I also learned the fundamentals of seismic acquisition, processing and interpretation. Coming from an academic background, I was shocked at how well the courses were taught and how concerned the company was that we really learned the stuff and could apply it immediately to our jobs. In university it seemed that the main emphasis had been on bewilderment and making it as difficult as possible to learn anything. I had definitely made the right choice in becoming a geophysicist. At least, that's what I thought until they sent me to Bistcho Lake in January (-40ºC) for seismic acquisition training. By the following summer I found myself in the Sahara desert at +45C, wondering if maybe I had done something wrong.
I have now been at it for over 25 years and still find every day a challenge. My career has taken me all over the world, with "permanent assignments" in Calgary, Houston, Jakarta, Midland, Sydney, Dallas, Buenos Aires, and back to Calgary. My father says that he has used up entire address books trying to keep up. Having been back here for seven years now, and having developed an allergy to cardboard, I think I'll stay a while. For someone not knowing what direction to follow, things have worked out rather well.