The convention is over and summer is on its way. As you know, the RECORDER does not publish in July or August. But you can still send me announcements for the September issue.
I had the pleasure of sharing my experiences with the Junior Geophysicists Forum with our sister society the CSPG (Canadian Society for Petroleum Geologists). They held a very successful under 35 networking event last year. I had the pleasure of meeting one of the organizers Ayaz Gulamhussein. We also worked together on the under 35 event at the convention. Ayaz was gracious enough to share information on the charity he is involved with, Kids Up Front Foundation. Thank you Ayaz.
ON THE MOVE...
Arcis is pleased to welcome Jan-Willem Vrolijk from Delft University of Technology (TU Delft) in the Netherlands. Jan- Willem has joined Arcis for a three month summer internship exploring the use of novel interbed multiple elimination tools on some of Arcis' proprietary data sets in the Montney area. Welcome, Jan-Willem, we hope you enjoy our beautiful city!
Oil Sands Imaging is pleased to announce the addition of Kevin Lee to its growing team. Kevin joined us full time in April 2011 and will be developing Interactive Geophysical Applications for the company. He brings 25 plus years of diverse experience in interpretation, processing and geophysical software development. He tuned his programming skills while working for several major seismic processing companies, including CGGVeritas, Geco-Prakla (WesternGeco), and Seis- Pro. Kevin can be contacted at: kevin@oilsandsimaging.com.
Pavlo Cholach is pleased to announce his new career opportunity with TAQA North Ltd. Pavlo can be reached at 403-724-5073 or by e-mail: pavlo.cholach@taqa.ca.
Earth Signal Processing Ltd. is pleased to announce that Sandy Lucas has joined the ESP team in the capacity of Sales and Marketing. Sandy's wealth of experience and earned respect over 15 years in the oil and gas industry will compliment the efforts and continued success at Earth Signal. Sandy can be reached at 403-264-8722 (main), 403-968-3968 (cell) or by email at sandy@earthsignal.com.
GIVING BACK...
Many members of our community give tirelessly to worthwhile charities. In this portion of the column, readers have a chance to share information about the charity that is close to their heart. Raise awareness for your charity and events supporting it! I am particularly pleased to share the following story with you this month because I was fortunate to attend a fundraising event for Providence Children Centres. It was a fantastic event with many people from our industry in attendance. CS
Submitted by Ayaz Gulamhussein, a Geologist with NuVista Energy Ltd.
I think it was the most awesome thing I have ever done!"
Do you remember attending your first hockey game, concert, or performance? Do you recall your excitement the first time you were inside of the Saddledome, Max Bell Theatre or McMahon Stadium? For many of us, these experiences nourished our imaginations and inspired our creative spirit! For thousands of kids and families in Calgary, these experiences would not be possible without the work of the Kids Up Front Foundation.
As President of the Board of Directors of Kids Up Front Foundation, I am proud to be a part of this local charity that provides life-enhancing experiences for children and youth right here in Calgary who would never get the opportunity otherwise.
It's amazing to hear the impact on the kids. One young person wrote, "For once I was the cool kid instead of the poor kid. Everyone wanted to be me for a change." The opportunity to attend a hockey game at the Saddledome, a rock concert, or live theatre can make a huge difference in a child's life. For an evening they feel special, can build healthier relationships, and they don't have to worry about their situation – they can have fun and just be a kid!
As a Board member, I am committed to help raise awareness and funds for Kids Up Front's programs so that we can give more kids in our community the chance to attend fun and educational events.
And I'm hoping you will get involved. Last year, Kids Up Front distributed over 30,750 tickets worth $1,152,900! Program costs to distribute the tickets to the kids are approximately $200,000 a year, and this funding is raised entirely from contributions from individuals, companies and foundations.
Please consider supporting Kids Up Front and give kids experiences and memories they will never forget! It's easy to donate. You can go online to www.kidsupfrontcalgary.com to donate tickets or financial gifts.
Your support will provide an experience which may be the key that opens the door to a world of possibilities for a child right here in our community. Research has proven that children in challenging situations can develop and flourish simply from exposure to positive experiences. There is not another program in operation today like the Kids Up Front Foundation. Our charitable partners focus on providing food, shelter and clothing. We provide nourishment of the spirit!
Last year, a youth living in a group home wanted desperately to attend a concert and made his wish known to Kids Up Front. When a ticket experience was given to him, he responded by screaming at the top of his lungs! His words of thanks describe the profound impact this experience had: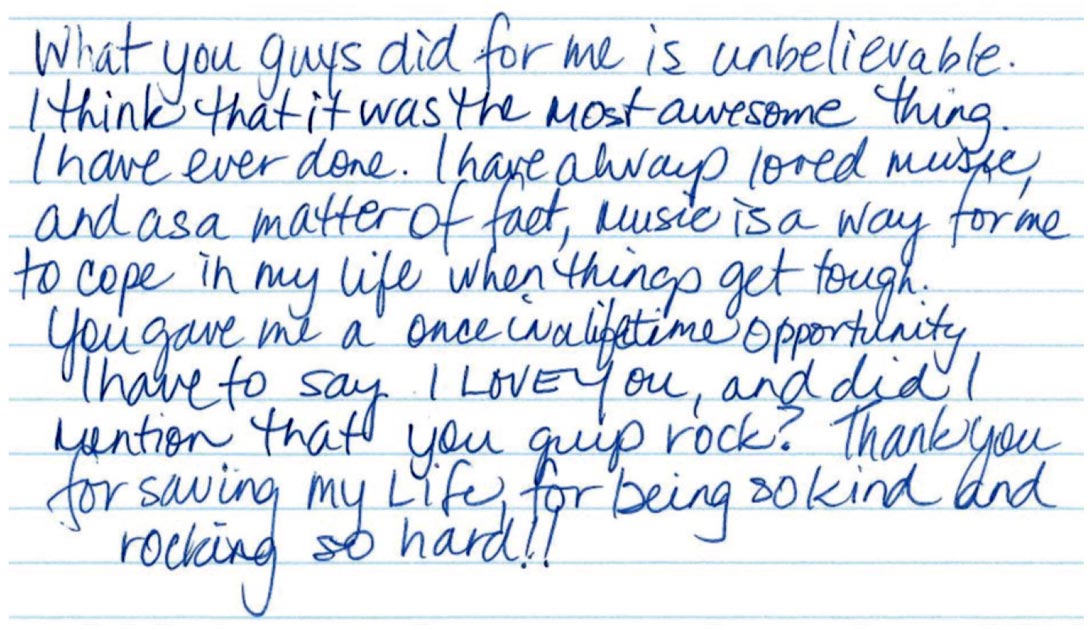 Not only was the experience an immediate positive influence, but this young man has continued to work diligently to improve his situation and recently graduated high school. The positive experience in his life was one factor that helped him achieve his success and open future opportunities.
There are so many ways we can make a difference in the lives of the kids that Kids Up Front supports. As one recipient recently stated, "I feel good inside my heart. Thank you."
For more information please visit www.kidsupfrontcalgary.com.