Merry Christmas and Happy New Year. The last year has flown by and soon we will welcome 2013. By the time you read this, we will have attended the SEG in Las Vegas. It will the first time I will attend a SEG meeting outside of Calgary, and my first time in Las Vegas. I am sure I will be seeing a lot of my fellow CSEG members. I may even take a turn at a "one armed bandit".
On the Move...
Melodie McArdle would like to let everyone know that she has accepted a position as a Senior Geophysicist with Bonavista Energy Corporation. You can reach her at Melodie.McArdle@bonavistaenergy.com.
Jonathan Banyard has joined Arcis in the role of Manager, Data Library and Project Development. His most recent post was Sales & Marketing Manager in CGGVeritas' Multi-Client Division. Jonathan has 30 years of sales and management experience, including 19 years in the seismic industry, with a focus on brokerage, marketing, and project development. He can be reached at jbanyard@arcis.com or 403.781.1445.
Jeremy Anderson would like to tell his friends and colleagues that he has moved into private practice. He recently completed a contract with Direct Energy, and is currently consulting for Southern Pacific Resources, and Hitic Energy. His new contact information is: tel 403 690 3865, email jmaexploration@gmail.com
Danielle Robertson is pleased to announce the she has joined Husky Energy and can be reached at danielle.robertson@ huskyenergy.com.
John Logel retired from Talisman Energy after completing assignments in Norway and Aberdeen. John and his family have moved to Kelowna B.C.; where he will be doing some part time QI consulting and teaching of his Petroskills course.
He plans to get more involved in his kids school and sports programs. John will be in Calgary periodically to stay involved and active in CSEG and APEGA.
Ten Years Strong
United Datawyse Ltd. was founded in 2002. Since then, we have continued to grow and developed our services and innovative line of products based on the needs of our clients demands.
In 10 years we have built a solid track record of delivering economical online data management services along with digital archiving, tape copying and document scanning. With the recent completion of our new warehouse, we are now better equipped to facilitate additional item, box and bulk storage.
We would like to thank all those who have been supportive through the years in helping us achieve this milestone event. We look forward to continued growth, expanded services and new relationships.
Again, on behalf of Shawn Payne, Leon Bahr and all the staff at United Datawyse Ltd, we would like to say thank you. www.uniteddatawyse.com
How I got involved in the Seismic Industry...
For many people Geophysics and the seismic industry seem to be "accidental" professions. Not many people start out with the goal of becoming a geophysicist or working in seismic. If you would like to share your story, please let me know! CS
Michael Hons
I'm a bit of a rarity because I was born in Calgary, and grew up in the city, but not in an oilpatch family. I knew the energy industry was a big deal, but didn't have any designs on finding a career in it. I've always tended to be one to take the path less traveled. For example, when I was young my brothers were both strong competitive swimmers, and it turns out that I am a non-competitive swimmer. My response was to take up speed-skating, which seemed logical somehow at the time. It turned out to be a good choice, since the Olympic Oval was, and still is, the best speed-skating training center in the world. That led me to another logical choice: attending the University of Calgary after high school.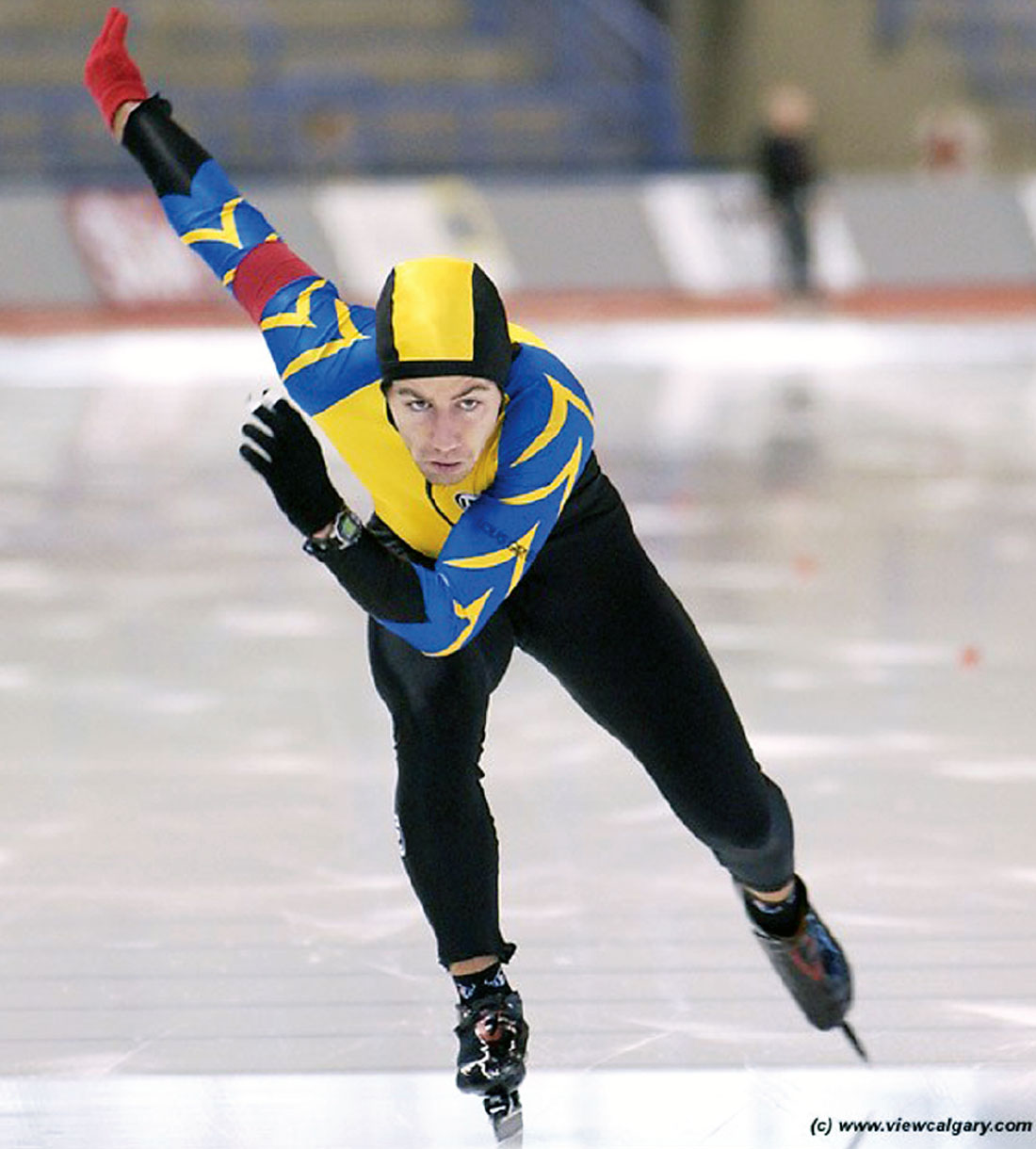 I was climbing through the ranks at the Oval, and starting to attend camps and training sessions with the likes of Catriona LeMay-Doan, Jeremy Wotherspoon, Cindy Klassen, Kristina Groves, and many other decorated (or soon-to-be decorated) Olympic-caliber athletes from Canada, the US and abroad. I decided to enroll in a science program at university because it seemed difficult enough that it must lead to something good in the end; otherwise why would anyone do it? In my heart, though, I was mostly speedskater and only part scientist. I mean, every speedskater knows in the back of their mind that they'll have to do something afterward (nobody in Canadian history ever retired to the French Riviera after a successful speedskating career), but it's hard to focus on such mundane topics when you've arranged your entire life around skating in a circle a little bit faster than last time.
Long story short, I had a solid but not stellar start to postsecondary education, and after feeling dissatisfied with the 'pure' science courses I took in first year, I decided to try geology. I had considered engineering, but rejected the idea because the schedule was inflexible, and also because I'd have been surrounded by engineers. It turned out that geology was something I could sink my teeth into; finally answers to questions that were interesting. How did the Earth form? What rocks are we standing on? Why are there mountains over there? I still didn't see any practical application, but it sure was fascinating. On the ice, I was trying harder and harder to the reach for the next level, but in the end it wasn't to be. I had many years of unforgettable experiences in the sport, but reaching the truly elite level of the Canadian team wasn't one of them. In the classroom, those same years did bring me to the next level in geology: the one where you stare at rocks through microscopes.
I remember very clearly a lab where we were creating a subsurface map interpretation based on some rock samples, core descriptions and thin sections. At the end of the lab the TA did something unexpected. His name was Taskin Akpulat, and I don't know if he'd remember this, but he stood up and gave a pitch for geophysics. He described a seismic section, how few geophysics students there were at the time (this was around the year 2000 or 2001), and that if you could handle some math you really should give it a try. It clicked immediately. Why was I trying to make a map based on a few scattered samples when you could learn to make a picture straight out of the depths of the earth? Everyone's geologic map from that lab was different; who's to say which one was right? I felt certain that geophysics wouldn't have that problem (we don't, right?). Geologists could keep their surface mapping and educated-guess extrapolation from wells and outcrop; I would be a student of rigorous physical measurement. I would be able to see exactly what rocks were between the wells, out where we actually need to find out about them. I would have the X-ray vision of a geoscience Superman, and my only Kryptonite would be Kryptonite, and since I had taken enough geology to know that doesn't exist, I would be invincible. I eventually discovered how spectacularly mistaken I was on all of those points, but I was hooked all the same.
The rest, as they say, is history. My first geophysics course was taught by Dr. Don Lawton, who explained in that calm, friendly accent of his how we blow up high-explosives in the ground and/or shake a bunch of monster trucks, and then record the micro-meter sized waves on little detectors stuck in the dirt. I felt like I had uncovered a secret university degree in mad science (is that what M.Sc. stands for in geophysics?) and I apparently couldn't get enough, as I went back for graduate work with the CREWES project. Since graduation, these mad science projects have taken me through a range of different countries and very different problems. Designing acquisition programs for ExxonMobil has been a great ride. From rank exploration to time-lapse reservoir monitoring; from meeting a fellow Canuck in the rice paddies of Indonesia to a crashing a coffee break in the snow outside a trapper's cabin, I'm thankful to have wandered into an industry full of friendly people everywhere you go. Seismic is a business is that produces strange and interesting stories, and we all like to share them. The challenges we face, both in the practical realities in the field and in the science, are every bit as interesting as they were when I first heard about this odd profession, maybe even more so now that I've spent some time wrestling with them. I can't wait to see where this less-traveled-path leads.
Giving Back...
Many of the CSEG members volunteer countless hours of their time to help out worthy causes outside of our industry. This portion of this column gives those people an opportunity to tell you about their valuable contributions. If you would like to share any information about your volunteer efforts please let me know CS
Marian Hanna
ION Geophysical/GX Technology Canada Ltd. held a volunteer event for employees, clients, family and friends on Sunday October 14, 2012 with the Soup Sisters/Broth Brothers not-for-profit. It was an awesome evening producing 92 liters of homemade soup for The Doorway program. Soup Sisters/Broth Brothers is a Calgary home grown organization founded by Sharon Hapton in 2009 and is now active in 10 cities across Canada raising awareness to end domestic violence and homelessness. Marian Hanna, Director at ION/GXT, has been active volunteer with Soup Sisters since 2010 and a contributor to the Soup Sisters cookbook.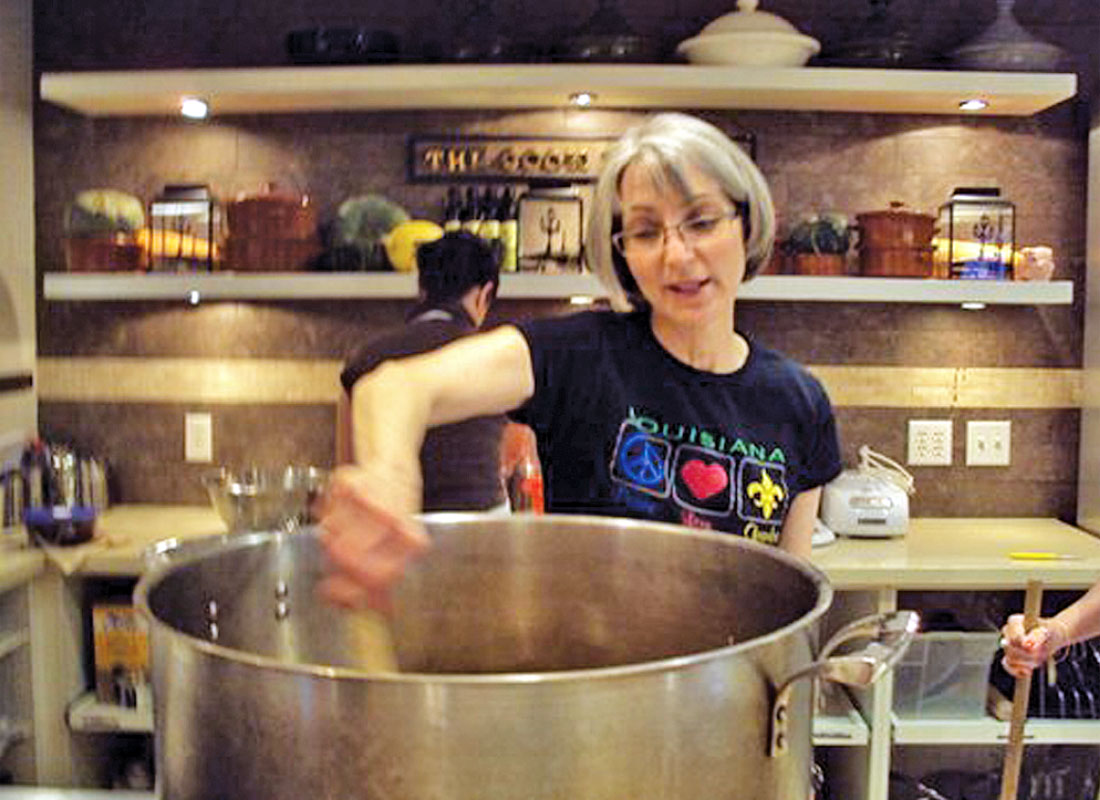 Sometimes our busy lives don't leave much time to lend to someone or something we are not aware of but there is always a cause out there that can inspire your passion. Never estimate the impact you can have by volunteering your time to a cause you are passionate about. Canadians are some of the most giving people and that is recognized globally.
This bit of information about the benefits of volunteering was found on an internet blog.
"In a report released by United Healthcare and Volunteer Match, they found that;
More than 68% of those who volunteered in the past year report that volunteering made them feel physically healthier.
29% of volunteers who suffer from a chronic condition say that volunteering has helped them manage their chronic illness.
89% of volunteers agree that volunteering improved their sense of well-being.
73% of volunteers feel that volunteering lowered their stress levels.
92% of volunteers agree that volunteering enriches their sense of purpose in life.
More than three-quarters of volunteers who participate in service activities through work report that they feel better about their employer because of the employer's involvement in their volunteer activities."
So, still think you don't have time to volunteer and do something good for someone else? There are many organizations including the CSEG that could use your wisdom, expertise and time. Just like in science, every action has a reaction or every cause has an effect. Help us all to create good causes that make a difference by sharing some of your precious time.
Marian is currently soliciting all working women to contribute used work clothes to the Walk In Closet to help our sisters rebuild their lives and to enter the working world with confidence. If you would like to help please visit the following website to contribute your good condition clothing at http://www.makingchangesassociation.ca/index.php? page=walk_in_closet_program.