Welcome to the last print edition of the RECORDER! From this issue onwards, Tracing the Industry and the Grapevine will be combined into one longer column, and yours truly will be responsible for collecting all information. I would like to thank Carmen Swalwell for her friendship, inspiration and for all of her years of service on the RECORDER Committee. Carmen has been a regular contributor to our industry magazine since 2003, and has done a tremendous service to the Society through her mentorship of young professionals and support of more seasoned members through various iterations of her column, and I hope to continue with her traditions. As past-Editor Satinder Chopra said: "credit should always be given where it is due, and so I commend Carmen for looking after the TTI column in the CSEG RECORDER during her 'tenure', responsibly and consistently. It has been a creditable service and a job well done!" We wish you all the best!
On the Move...
Matteo Niccoli would like to let his friends and colleagues know that he has landed with Birchcliff Energy and may now be reached at mniccoli@birchcliffenergy.com.
Ashley (Krakowka) Barrett has moved to the East Coast and is now the Manager of Petroleum Geoscience (Geophysics) at the Government of Newfoundland and Labrador. Her new email address is AshleyKrakowka@gov.nl.ca.
Andrew Wiacek has joined Primavera Resources Corp. as President. Primavera is a new ARC Financial portfolio company and are primarily focused on the Montney. His new email address is andreww@primavera-resources.com and his cell remains 403.874.9692
Raymond Law would like to let his fellow colleagues and friends know he has joined Terra Aqua Geophysical, a company started by Brett Lybbert and Anson Eng.
Terra Aqua is focused on providing 2D/3D land and 2D marine seismic processing services. We have extensive experience locally and worldwide.
Our contact information:
Raymond Law – Sales, raymond@terraaquageo.com | mobile: 403-690-8885
Anson Eng – Processing, anson@terraaquageo.com | mobile: 403-863-6188
Brett Lybbert – Processing, brett@terraaquageo.com | mobile: 587-700-0458
François Aubin has joined David Willett at Gray Aero Services Inc. (GrayAero.ca)
Gray Aero provides comprehensive data gathering solutions through the utilization of drones (Unmanned Aerial Vehicles – UAVs). Services include consulting/training incorporating proper safety procedures and regulations, inspections, infrared/multi-spectrum data, aerial imagery data, detailed survey data, orthomosaics, volumetrics, site mapping, and 3D modelling. François can be reached at 403-988-7842 or francois.aubin@grayaero.ca
Socially Speaking
DOODLESPIEL 2017!
The 45th annual 2017 Doodlespiel has now come and gone and this year we had 60 teams with over 300 participants. The town of Banff, the Banff Curling Club, and the Best of Banff company once again created an amazing venue for the Doodlespiel that was enjoyed by all.
The A event final had the Brack rink against the Boeckx rink and it was an exciting back and forth game. In the end the Brack rink consisting of Mike Langlois, Jim Brack, Dave Cryer, Bill Campbell, and Dale Johnson won the A event. Congratulations to the Doodlespiel Champions!
Other event winners include:
B Event = Ken Lengyel, Joe Pilieci, Glen Stewart, and Steve Widden
C Event = Bob Bleaney, Bill Bradley, Tooney Fink, and Ken Hedlin
D Event = Grant Saskiw, Lori Barth, Kristy Manchul, and Mike Hartley
Holeplug #1 = Bill Greenan, Dustin Borostik, Todd O'Brien, and Todd Keedwell
Holeplug #2 = Victor Irwin, Andreas Georgousis, Mark Weatherbee, John Duhault, and Terry MacDonald.
Team Spirit best costume awards go to: 1st Place = Teenage Mutant Ninja Turtles – Team Jeroncic
This year we held a charity raffle once again with all proceeds going to the CSEG Foundation "In the Rings" Scholarship Fund. With everyone's amazing generosity we raised over $1800 from the raffle. A huge thank you to all those who participated and a thank you to all the sponsors that contributed raffle prizes. And once again, Larry Herd has generously matched all proceeds towards the fund, bringing us to a grand total of over $3600! Thank you Larry!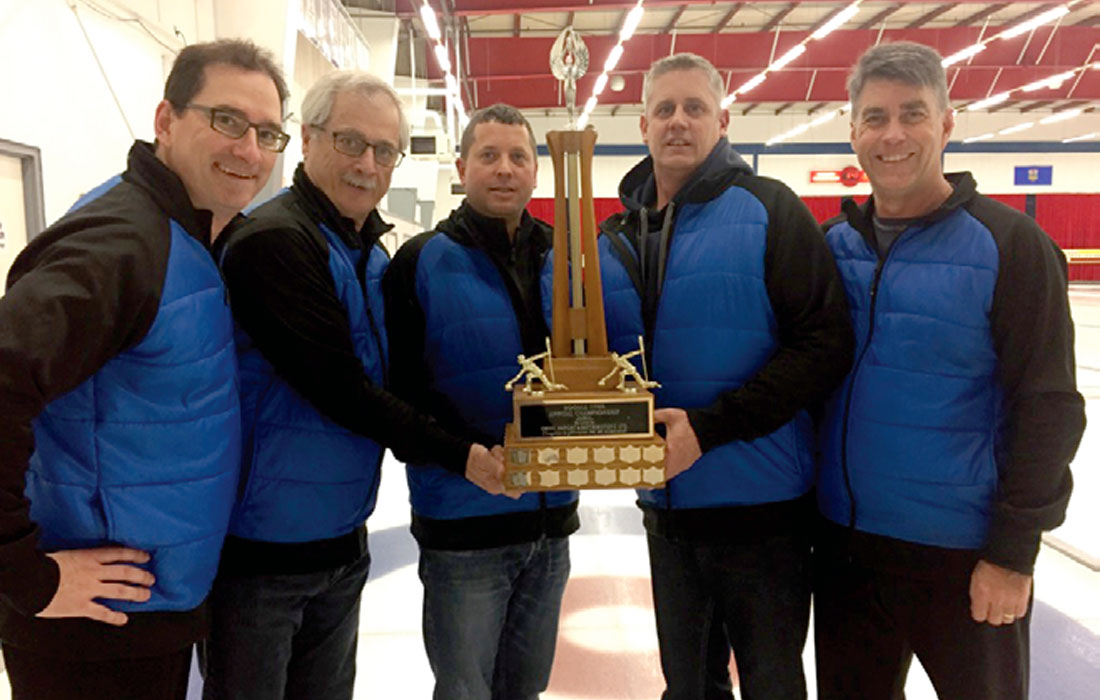 As Chairman of the 2017 Doodlespiel, I would like to take the opportunity to thank all of the sponsors of the 2017 Doodlespiel. Without the continued support of the industry, this great event would not be able to continue. Sponsorship and overwhelming participation of our industry continue to make this one of the largest curling bonspiels in Western Canada. As outgoing Chairman I am confident that next year's Doodlespiel committee will no doubt deliver another excellent event. The committee wishes everyone a safe, healthy and prosperous 2017 and look forward to seeing everyone back in Banff for 2018.
Daniel Perez – Chairman, 2017 Doodlespiel
WOMEN IN SEISMIC 2017
SAVE THE DATE: Women in Seismic will be back at Fox Hollow for another great round of networking on the golf course on Thursday, September 14th, 2017! Registration and Sponsorship details will be available by April 1, 2017.
Corporate Grapevine...
Earth Signal Processing Ltd. is pleased to announce that Faranak Mahmoudian has joined our team in a Geophysical Research & Development position. Faranak will be developing reservoir characterization tools, Joint AVO inversion and Azimuthal AVO inversion. Faranak holds a Ph.D. from the University of Calgary and has experience in processing, quantitative interpretation, computer programming and research. Recently she has worked on moment-tensor inversion for source mechanism applicable to microseismic monitoring and geothermal exploration. She hopes to contribute to our evolving geophysical capabilities. Faranak can be reached at faranak@earthsignal.com or 403-264-8722 ext. 250.
Earth Signal Processing Ltd. is also pleased to announce that Lance Derkach has joined our team as a Senior Processing Geophysicist. Lance brings with him 7 years of hands on experience with previous processing companies and looks forward to contributing to the technical and marketing aspects of the business. If you would like to get in touch with Lance, he can be reached at: lance@earthsignal.com or 403-264-8722 ext. 248.
Earth Signal Processing Ltd. is an industry leader in seismic data processing, specializing in merging 3D seismic surveys, 3D multi-component surveys, and 4D time lapse seismic surveys. Earth Signal has worked with hundreds of clients in the Western Canadian Sedimentary Basin and around the world. Our software is 100% proprietary.
Sensor Geophysical Ltd. [a Global Geophysical Company] has been resurrected by the former employees as Sensor Seismic Solutions Ltd.
We would like our clients (past, present and future) to know that as of August, 2016 we are back in business. Sensor Seismic Solutions Ltd. is made up of the same great people, whose focus has always been to provide great service whilst delivering geophysical correctness in the processing of your 2D, 3D, 3C and 4D seismic data.
We appreciate the support that has been given to us in the past and during this economic slowdown. If we can be of service in the future please consider us first.

New main phone number 587-393-385
Website: http://sensorseismic.com
Address: 1300, 736 – 6th Avenue SW Calgary, Alberta T2P 3YP