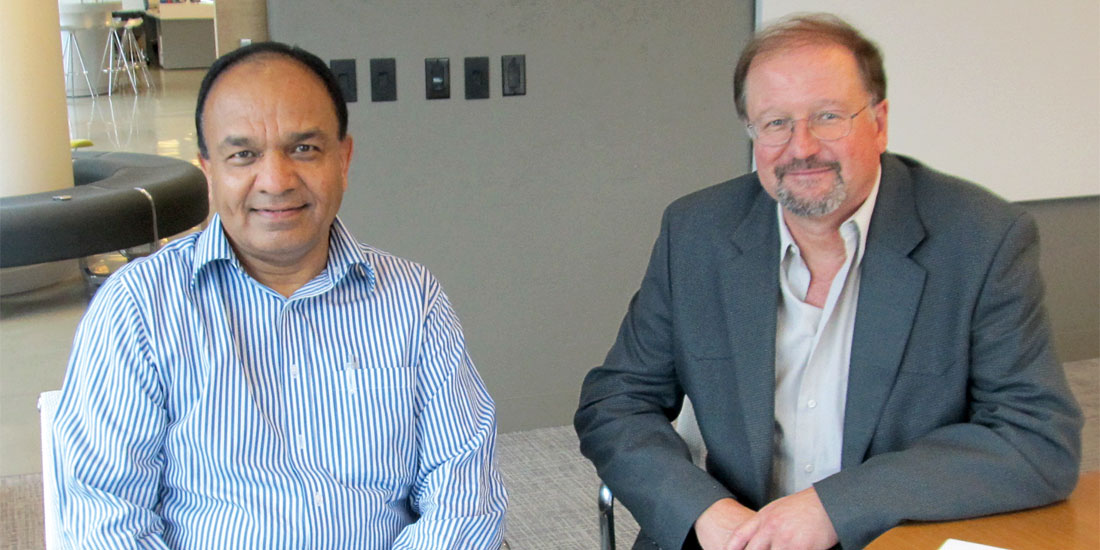 Dimitri Bevc is a team leader in geophysics R & D at Chevron. He has a Ph.D. in geophysics from Stanford University and M.Sc. and B.A. degrees from the University of California, Berkeley. He has been engaged with innovating wave-equation and velocity technologies since cofounding a start-up company immediately after completing his Ph.D. He is now doing the same and more at Chevron.
In addition to full-waveform inversion, Dimitri's technology interests include integrating geophysical methods with geomechanics and reservoir engineering, with applications to exploration, subsurface integrity, containment, and reservoir management. He is active on the SEG Research Committee and has organized numerous summer research workshops and post-convention workshops, including a popular series of imaging challenges at the last three SEG annual meetings.
Recently, when Dimitri was in Calgary delivering his Distinguished Lecture at the CSEG Luncheon, the RECORDER approached him for an interview, which he readily agreed to. Following are excerpts from the interview.
Dimitri, please tell us about your educational qualifications and your work experience.
I did my undergrad in geophysics at U.C. Berkeley, and after working for a few years, returned to Berkeley for an M.Sc. in engineering geoscience. While in grad school at Berkeley, I took one of Jon Claerbout's classes through the Cal-Stanford exchange program. While taking Jon's class, I sat in on the Stanford Exploration Project (SEP) bi-weekly seminars, and I really enjoyed the class, seminars, and environment, so I asked Jon if he would accept me into the program, and so ended up getting my Ph.D. with him from Stanford.
I now work for Chevron as a Team Leader in Geophysics R&D. Between undergrad and graduate School I worked for and electromagnetic service company, but most of my career, after the Ph.D., has been in seismic depth imaging and velocity. In recent years at Chevron, the technology scope has broadened significantly, covering pretty much most aspects of geophysics, and pushing new technical boundaries.
You have worked in diverse places, from field crews to national labs, oil companies, a service company, co-founded your own company, served at the university and then back to an oil company. Tell us about your experiences at each of these places.
My first job after the bachelor's degree was on a field crew, and it was quite a learning and growth experience, especially since the field work was with electromagnetic methods, and I had studied seismic. It was hard work and long hours, but also great fun for a young guy, travelling around North America, on an expense account, and having many adventures. It was a great experience since it gave me a good perspective of where the data comes from and what goes into acquiring it. That job required a lot of team work, and also gave me leadership experience as I pretty quickly became crew chief and was usually the only geophysicist on the crew. I also worked with a great bunch of people, with whom we had a lot of shared interests, including outdoor activities, so on our days off we'd go kayaking, mountain biking, or climbing. Much of the work was for minerals and geothermal, so we were usually working in beautiful places like Alaska or the mountains of California. This first job out of college was an affirmation of my career choice in a way, because when I was in high school, I had identified geophysics as a possible career when I saw a recruiting brochure with a picture of someone making field measurements in Alaska; I remember seeing that picture and thinking "I want to do that," and about five years later, there I was, doing "that" in Alaska, flying around in bush planes and helicopters out of a remote bush camp making geophysical measurements.
I worked at the Nat'l Lab during my graduate studies at Berkeley, and through the lab, I ran a few field projects for environmental and petroleum objectives. This was my first exposure to working for a large entity, although it was a bit atypical and academic since it is associated with the University; nonetheless, it was quite a contrast from the field job, which was actually with a startup company.
My first stint at Chevron was during two summer internships during my Master's program, and I was tempted to join at that time, but I got the opportunity to study at Stanford with SEP, so I took that.
We started 3DGeo to commercialize cutting edge depth imaging and velocity model building technology, much of it inspired by developments at SEP. We spent the first years developing technology products, and doing contract development projects; once we developed a set of products, we started selling software and offering services. 3DGeo gave me the vendor perspective into our industry, and one of the interesting aspects of that is that you get to work with a variety of different clients, some with very different approaches and value drivers, all with interesting challenges.
Working for an oil company offers a different perspective. At Chevron we certainly have a huge variety of technical challenges to work on due the diversity of assets and worldwide interests, but one thing that I particularly enjoy is that working within an oil company you get a very complete picture of the entire business challenge, and you have access to data and information that it's often not possible to get as a vendor.
What strategies have you employed to pursue the career options you have made?
Being well prepared and having a plan are key, and so is being willing to put yourself out there career wise, and try new things, and pursue new opportunities. I like to try to learn as much as I can from others, listing to input and advice. Not all of it always fits, but it is good to listen and reflect so you can move forward with as much information as you can. At the same time, you don't want to let that hold you back. Sometimes you have to act and just do things. There is such a thing as being over-prepared, and you can spend too much time researching something and thinking about it, and then you can miss the boat.
Looking back at your geophysical career, what were some of the successful landmarks?
One of the key events that started me on my career path was going to graduate school at Stanford as part of the Stanford Exploration Project (SEP) under Jon Claerbout as my advisor. Jon is of course a great innovator and thinker, and I really enjoyed the way he taught, with his combination of daily quizzes, and labs. He kept the pressure on his students with a biweekly seminar series that rotated through all of us, and we always had to demonstrate progress and relevance. The seminar was a fantastic forum: an interchange of ideas, where all the students learned what every other student was working on, and this created a great learning environment where students could collaborate, help each other, compete with each other, and spur each other onwards. One of the great features of SEP is the high level of industry contact with sponsors and with visitors. During my time there, we had the fortune of long term visitors like Stew Levin, Jim Black, Francois Audebert, Luis Canales, Jim Berryman and short term visitors like Bill Harlin and Simon Spitz among others. I learned tremendously from all of them, not only about technical issues through collaborations and joint papers, but also about industry directions and industry perspective. Biondo Biondi was sort of a visitor at that time, on loan at Stanford from Thinking Machines. Biondo and I eventually became business partners in 3DGeo, and of course he is now running SEP, and I am fortunate to be able to continue my collaboration with him now through Chevron, where we are working with him and his students. I've learned a great deal from Jon and Biondo, and SEP, and really value the professional contacts I made there with fellow students, alumni, and sponsors.
One of the "Landmarks" if you will is the people you meet in the industry. For me, one of those was Francis Muir, who passed away this year. Francis was a wonderful mentor and contributor to my time at SEP, and I am very honored that he was on my dissertation committee. Francis often helped out new arrivals at SEP, and when I first got there he came to me with an interpolation idea, on which we collaborated for one of my first SEP reports. Francis always had great technical insights and was a wonderful resource, both for technical input pertaining to thesis work, and career and business advice. But beyond the technical, he always had great stories to share about his geophysical field adventures, ranging from Africa to Alaska. He really enjoyed people and places, and the community of geophysics. One of his most uncanny and humorous characteristics at SEP seminars was that he would always sit in the front row, and he would sometimes fall asleep during the presentations, yet when the talk was over, even if he had been sleeping, he would ask the seminal question, which was spot on and right to the point of the central thesis of the talk. Francis was a great thinker and mentor, and a wonderful well rounded person who enjoyed life and science, and enjoyed sharing both.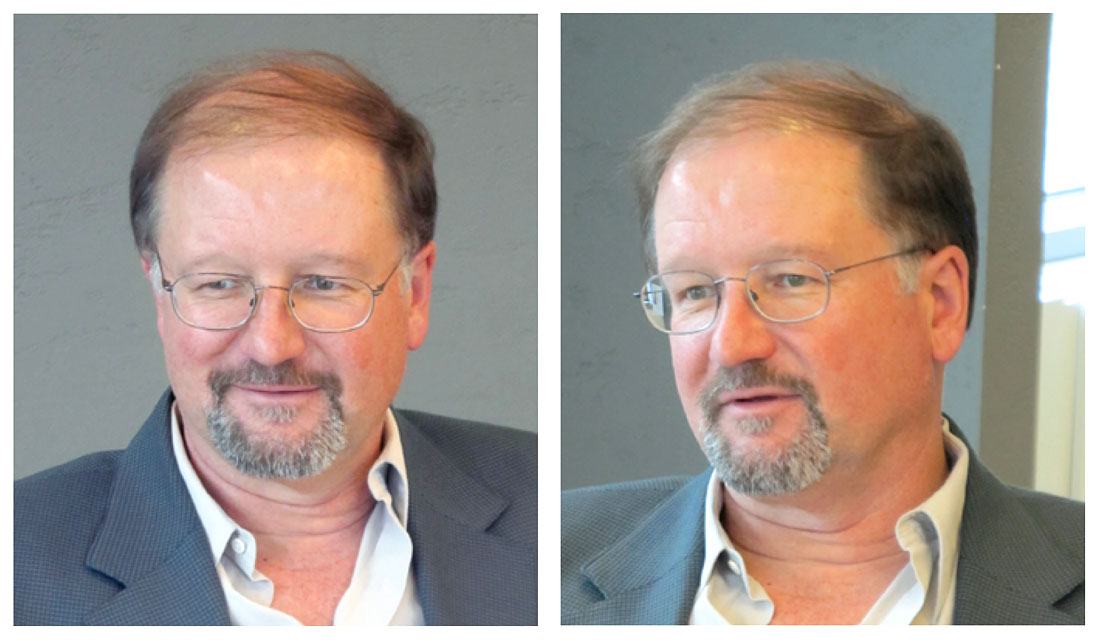 Another landmark was of course starting 3DGeo. It wasn't my first business or the first or last startup that I was involved with; I have been involved with several others in Silicon Valley. My first business was actually manufacturing, selling, and repairing specialized big wall climbing equipment in Yosemite Valley, which was basically an engine to sustain my climbing habit, but later I was an early employee of a U.C. Berkeley electromagnetic spin off company – the one that brought me to Alaska. During my master's at Berkeley, a group of us started a consulting company which we ran for a while. I started to get insights into the seismic industry during my internships with Chevron and from SEP sponsors, and it seemed to me that there was an opportunity. So at SEP, as I got to know seismic and what the sponsors wanted, I started to think about the opportunities, I started a company with Mihai Popovici, and at the same time, Biondo was transitioning from Thinking Machines to Stanford, and had setup a company called 3DGeo, so when we finished our Ph.D.'s and got our first funded projects, we joined forces with Biondo, and rolled the whole thing together under 3DGeo. With that critical mass, we were on our way.
At 3DGeo we were publicly recognized for numerous technical achievements, such as being named top 100 by IT World for pioneering what we called Internet Seismic Processing; We were also recognized by IEEE for an early implementation of RTM. But before that, we had what was the first commercial implementation of 3-D wave-equation migration, so I think that as small as we were, we helped usher in the modern era of wave equation imaging. One of the things I feel good about is that we gave a lot of people a start in their careers, and employed a lot of people at 3DGeo; adding to the industry and to the economy, and helping people out in that way is satisfying. I have organized a number of SEG SRWs and post-convention workshops, both while at 3DGeo and Chevron, and these are a very satisfying contribution, because you can see the industry come together at these events, and move technology forward. The last 3 post-convention blind FWI challenge workshops have been particularly well received, with many of the participants saying that they have improved their understanding, and their implementations based on their learnings from the workshops.
Of course being named the SEG DL is a very nice honor and a great experience, and I am grateful and humbled that I was selected.
Your SEG DL talk is on Full Waveform Inversion (FWI). Tell us about it. How is it that it is a buzzword these days?
You've got to come to my talk for that!
In the presentation, I don't explain the nitty gritty details of how to implement FWI, or explain the detailed technical nuances of the different implementations like: time vs frequency, or extended methods (e.g. TFWI & AWI), or details about how to achieve anisotropic and elastic FWI.
The presentation is about what we can achieve with FWI today; what kind of results we are getting, what it takes to get the results, and what we can use them for; basically, where and how FWI technology can add business value today.
In the process of looking at a number of case histories, I indicate what I think are the future development directions of FWI, and what the technology may achieve in the future.
There's a lot of buzz because the technology is still new in its commercial implementation, and hasn't been widely or routinely applied industry wide, yet people have seen some pretty dramatic results. Some companies have used it extensively.
Of course I am coming to your talk. There are two separate aspects to FWI, one where it is used to generate accurate subsurface velocity models and the other which should be called Full Waveform prestack impedance inversion and has to do with generating accurate subsurface impedance models. Could you please elaborate on these?
We are seeing examples of high resolution velocity models from FWI, so it is natural to start thinking about inverting for the same properties that we commonly get from AVO. Theoretically and there are some examples, you can invert for impedance and elastic parameters, anisotropy, etc. So you can push FWI beyond velocity, and I think we will be seeing more and more of that.
With the fast computing power available today, what is the bottleneck preventing the routine usage of FWI?
Depends on what you mean by 'routine'. It is being applied. More by some companies than others. However, our industry is conservative about jumping into new technologies, especially in areas where the tried and true solutions are delivering the answers that meet the need. And that is rightly so. Why change if you have something that works? So the main challenge for FWI, is that of any new technology, in that the business case has to be demonstrated, established, and understood.
FWI in its present state definitely has its range of application. It works better under some conditions than others, and it's a business decision whether the uplift is warranted. There are certain criteria that have to be met for a successful FWI project, and different flavors of the implementation, or different workflows have to be applied under various circumstances.
What would you say are your top specializations? Seismic imaging, FWI, modeling or something else?
A good deal of my background specialization has been in depth imaging and velocity, so FWI and modeling have been natural outgrowths and components of that.
Recently however, I have been broadening my scope, more from a supervisory level, into interdisciplinary integrated approaches, including multiphysics, geomechanics, and reservoir, to solve business challenges across the entire spectrum from exploration through development and production of conventional and unconventional reservoirs.
What particular challenges did a company like 3D Geo face in the market place?
Our technology was cutting edge at the time, and we were a new, small company, so all of that is a challenge to market entrance. And as I mentioned before, our industry is conservative about taking up new technologies.
I see some very interesting titles of projects that you have been working on. For example, next generation seismic imaging. Tell us what is so futuristic about what you are working on?
"Next generation seismic imaging" was a title from some time ago, and at that time it was about wave equation methods for both imaging and velocity, and about Internet processing, which people would now call Cloud Computing. So all that is coming to fruition now. We are working on things now at Chevron that definitely push the envelope.
What do you think is an emerging geophysical technology at present that holds promise?
FWI is still emerging in its application, and it still holds more promise, both in terms of more widespread application for velocity, and beyond velocity. New developments in acquisition are also promising, ranging from more complete wavefield recording, to the use of novel sensors. Acquisition advances will also directly impact algorithmic advances, and make certain algorithms more feasible and robust.
More complete multidisciplinary integration, and tighter coupling of geophysics with other phenomena, such as geomechanics and fluid flow, should yield great dividends.
What, according to you, are the three top unsolved problems in geophysics and why?
I remember watching a Star Trek movie once, and as they neared a new planet, the captain called a geophysicist up to the bridge. All the guy had to do was press a button on the com, and a full 3-D image of the planet emerged on the screen. We haven't come up with that solution yet.
But seriously, there could be a lot more automation in our processing and imaging, and we could harness modern technology more effectively for better interactive interpretation in terms of both data access and processing while interpreting. Concepts from Big Data could help in that, and in some of the "unsolved problems" where we perhaps don't yet have an established physical link, or where it's too expensive to implement the physics.
How do you think our industry is handling the low price of the barrel? Do you think such low prices are here to stay or are temporary? Do they not discourage oil companies to acquire or implement new technology?
As you know, our industry is cyclical, and you and I have both been through lows and highs. That's the way commodity markets work. The right technology can lower costs, so in down times and in up times, there is a need and a market for the right technology.
After all the doom and gloom that our industry is going through, where would you expect the price of the barrel to stabilize, so that there are no budget cuts in companies and the mood becomes upbeat again?
I wouldn't want to speculate on that. We've been through these cycles before, and the economy is always changing. The key for individuals is to stay focused, and keep working on things that are relevant.
On the lighter side, let me ask you this: Henry Ford once said, 'Obstacles are those frightful things you see when you take your eyes off your goal'. Would you agree with it? As a researcher, do you or have you seen obstacles in your work?
Sure, but obstacles can arise even when you keep your eyes on the goal. You should always keep your eyes on the goal and stay focused, but sometimes things are out of your control. It's also not worth worrying too much about those things out of your control. It's good to keep your eyes open and have a plan B, but you cannot agonize too much about what you cannot control.
What are your other interests?
Climbing mountains, skiing, flying airplanes, and being with family and friends.
I've done numerous first ascents in Yosemite and the High Sierra, climbed all the major big walls in Yosemite, and climbed in Alaska, South America and Europe. Over the last three months I've been lucky enough to climb on three continents, including an ascent of Sugar Loaf in Rio de Janeiro last weekend. Most of my skiing is in California, often with my son, around Lake Tahoe, where my family has a cabin. I had the opportunity to start flying as a kid because my dad is a pilot, and he taught me to fly – he was my best flight instructor. I have a commercial license and I enjoy going on long trips and maintaining my instrument proficiency, but I get the biggest kick these days from flying my aerobatic plane. There's nothing quite like doing loops and rolls in the evening as you watch the sun set over the Golden Gate. However, the best thing about all these activities is sharing them with family and friends, and the bonds that come from shared adventures.
One piece of advice would be to always be open to information and opinion, and to be introspective and seek feedback. Listen to your peers, to those who report to you, to clients, to professors, and to management, and take it all in. Challenge yourself and always keep learning, whether it's expanding your knowledge of science and technology, or as your career evolves, business, management, and soft skills. If you keep learning and broadening you horizons, and taking on new challenges, you'll be successful.
When I was at Stanford, I had the fortune of being a Green Fellow, and had occasion to meet Cecil Green several times. One of the great points of wisdom that Cecil stressed is how important it was to work with people: to build on each other's strengths, to pull together, and to combine talents to achieve goals, both technical and business objectives.