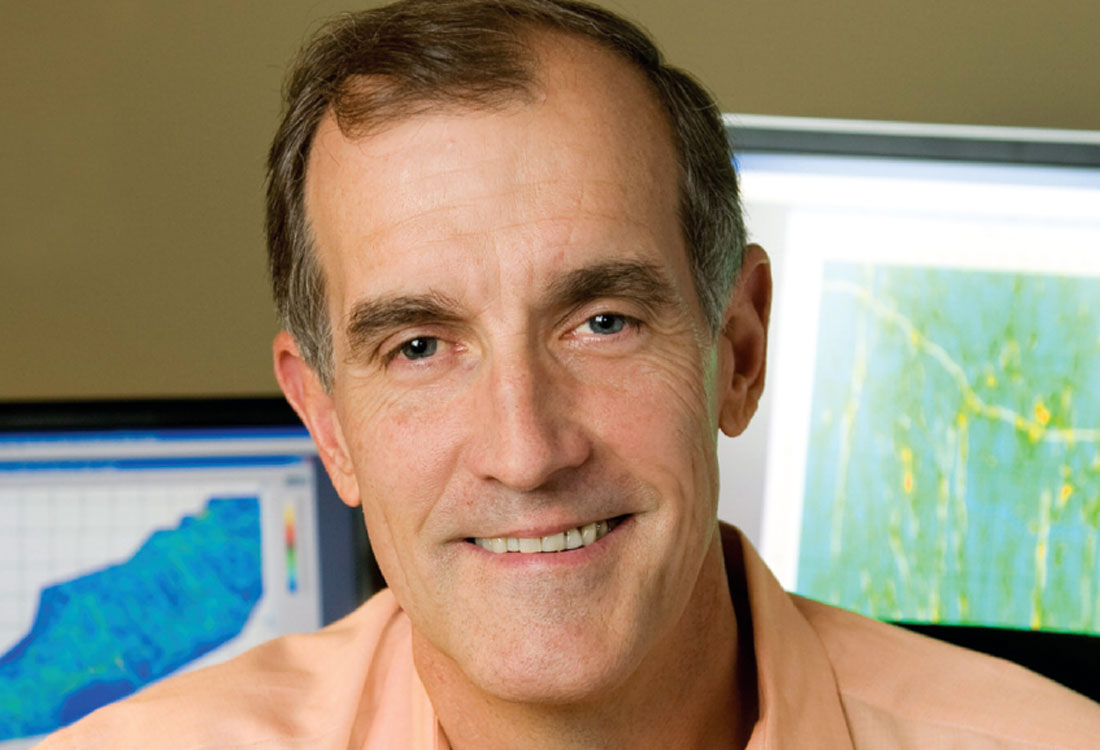 Scott MacKay is a petroleum geophysicist with over 30 years of international experience. After working for Tenneco Oil for almost 10 years, Scott joined Western Geophysical as a research geophysicist. He occupied responsible positions including the Manager of R & D for WesternGeco and served as world-wide coordinator for Depth Imaging, Time-Lapse Reservoir Characterization, and Multicomponent Imaging. Scott holds 5 patents and has over 35 publications on applying innovative and practical solutions to exploration problems.
Scott became an independent consultant in 2003 working domestic and international projects. Since then he was the Technical Program Chairman for the 2004 SEG Convention in Denver and won the Best Paper Award at the 2008 3D Seismic Symposium in Denver, Colorado.
Scott was responsive to our request for an interview and shared his thoughts in a relaxed discussion. Following are excerpts from the interview.
Let me begin by asking you about your educational background and your work experience?
I am originally from Boston and my undergraduate work was at Bridgewater State College in Massachusetts. I had a double major in Chemistry and Geology, graduating in 1977. My undergraduate professors knew I was interested in geophysics and they suggested that I go to the Colorado School of Mines. To be honest, I was not really familiar with the school, but I took their advice and went off to Golden, Colorado. Mines was a great experience. I was lucky enough to have Dr. William Schneider as a professor and on my thesis committee. I graduated in 1979 with an M. Sc. in Geophysics.
After graduating, I started working with Tenneco Oil in Denver as an exploration geophysicist. Tenneco was a "learn by doing" company with great mentors along the way. I worked the Rocky Mountain Basins, especially the Williston, for the first six years. My last two years in Denver were working the Wind River Basin and various thrust plays. Again, I had the privilege to work with great people. We made some discoveries and drilled some interesting dry holes. Then came 1986, the "Big Bust". I was transferred to Tenneco's Special Projects Group in Houston. I became the "structural interpretation/depth conversion guy". I would visit the different divisions giving presentations on the use of velocities for depth conversion, optimal processing techniques, and help work out local interpretation problems.
The next step in my career was something I never really contemplated. As an explorationist, one is confronted with the reality of drilling wells to targets that need to be assessed in a timely manner. We do not have the luxury of making "research projects" out of every prospect. So, what was my next career jump? Research. I was contemplating leaving Tenneco (more on that later) when Walt Lynn and Ken Larner gave me the opportunity to join Western Geophysical Research. What an experience. With Western's support I also earned my Ph.D. in Geology and Geophysics from the University of Houston.
Apparently, things went well at Western since three years later I was asked to start up an R&D group in Denver as the new Manager. I put together a world-class team of researchers and they had a powerful impact on the industry – multicomponent processing, refraction tomography, neural network first-break picking, watervelocity correction, our first 3D prestack depth migration traveltime codes, and many other applications came out of Denver. The ten years I spent as Manager of R&D were some of the most fulfilling in my career, mainly because I felt that I was helping others achieve their potential.
In 2003 an opportunity came to work with PEMEX in Mexico. I spent half my time there for three and half years working with the interpreters. This was an intense, fascinating experience. In 2007, there I was in Denver after completing my PEMEX work as a consultant. I started working on interpretation projects in the Neuquen Basin of Argentina, Piceance and Uinta Basins in the U.S., and the like. However, my "niche" started to be linked with several articles I had published on depth conversion in mature fields and the impact of depth imaging on field development. I started working a 3D depth-imaging project in Belize where they had just found first oil but were encountering development problems. The depth imaging resulted in far more accurate depth predictions, a different geologic model, and larger reserves (don't always expect that!). My main mix of projects now ranges from interpretation to managing depth-imaging projects.
So, a B.Sc. from Massachusetts, M.Sc. from Mines and a Ph.D. from Houston. Did you intend to complete this triangle on purpose? Please tell us about it.
The jump from Massachusetts to Mines was a leap of faith. I had received a full fellowship to Stanford, Arizona State, and Penn State, but the practical nature of Mines perfectly suited my temperament. My Ph.D. I got fairly late in life, 1991. I had started my studies when I was at Tenneco in Houston, but Western gave me the support to take a full year to finish my studies. For that, I will always be very indebted to them. So, no particular plan, just taking advantage of the opportunities provided to me.
What kind of research did you do for the doctorate?
At Western Geophysical I was working on a wave-equation form of prestack depth migration velocity analysis and optimal imaging called depth-focusing analysis. I fell back on my interpretive background to establish a robust method of velocity analysis and an approach to re-imaging. For my studies, I fleshed out the details. Therefore, my dissertation was a tome on the various sensitivities of depth imaging in practical applications.
Apparently you are well versed with many different interpretation software packages like Landmark, GeoFrame, SMT, and Petrel. How did you do this?
At PEMEX, they were a Landmark and GeoFrame shop. So, if I was going to work with the interpreters I had to come up to speed. Fortunately, when you spend two weeks a month in a foreign country, you have plenty of time to pick up the details of different software packages. SMT is something I picked up after I came back to Denver. I have use it to interpret most of my projects. Petrel I am using compliments of Schlumberger, as I am coordinating with them on the interpretation of some of their deep-water surveys. Interpreting and reviewing the projects in Petrel is extremely effective, especially when presenting to a group.
In terms of how I did this, interpretation is a process. Once you know it, picking up a new software package is little less than figuring out which button does what you want...
So you started your career by working for an E & P company in 1979 and worked there for 10 years. How come you switched to a service company thereafter?
As I mentioned, I worked the Rockies for Tenneco for eight year. My final two years with Tenneco were in Houston and this was quite intense. I basically reported to the VPs making sure the G&G of the key big plays tied together. Bahamas, North Slope (the last ANWR well), Colombia, North Sea, and so on. The problem was, I was working on such confidential projects I couldn't talk to anyone. It was fun, but the analogy is the "bird in the gilded cage". I stopped interacting with the industry, I stopped learning. It was about then when Ken Larner offered me a chance to join his research staff. I left Tenneco Oil in 1988 days before Tenneco was sold off. To me, it was a great opportunity and even better timing!
You had fairly long innings with Western. Seems like you just got hooked over there or shall I say they looked after you well?
I think the best thing I had going for me when I went to Western Geophysical was that I had no idea what I was getting into. The environment was radically different than that of an oil company. I immediately gravitated towards the imaging technology, especially depth migration. However, I was drawn (sometimes pulled) to other projects. As a newlyminted researcher I had the honor to work with Walt Lynn, Craig Beasley, Alfonso Gonzalez, Wendell Wiggins, and many other top scientists in the world. It was humbling and exciting.
I must admit I was thinking of getting back into interpretation with an oil company when the offer to open an R&D Center for Western Geophysical in Denver was proposed. This truly caught me off guard. I had never managed people and the prospect was a bit daunting. However, the experience was very rewarding on a personal and professional level.
Please tell us about the different kinds of projects you were involved in at Western?
From my background, depth imaging fits naturally. I published and presented many articles on prestack depth imaging, in particular depth-focusing analysis. It is interesting that this topic is now receiving more interest since computer firepower has caught up with the application. I also became involved in one of the first papers that addressed the impact of vertical transverse anisotropy on prestack imaging published with Alfonso Gonzalez. After becoming Manager of R&D in Denver, I kept my hand in research. I worked on AVO, wave-equation datuming, velocity conditioning, and the impact of watervelocity variations on deep-water exploration. Jonathan Fried of WesternGeco in Denver drew me into my contribution on water-velocity variations. Surprisingly, most people were not even aware of the issue of the timing variations and misstacking caused by subtle changes in water velocity. It was a CSEG Luncheon talk where we first unveiled our work on an offshore Nova Scotia project.
That brings me to my next question. How or why did you choose to become a consultant in 2003? Apparently, you seem to be liking this stint as well. Your comments?
I had been away from interpretation for over twenty years. R&D was interesting, but I was looking to get back to my roots. In the same way I was able to bring the practical viewpoint of the interpreter to R&D, it was time for me to bring the array of new technologies back to solving exploration and exploitation issues. In 2003, an opportunity came up to work as the geophysical advisor to the Subdirector of PEMEX. I worked offshore and onshore from Reynosa (Burgos Basin) to Veracruz. I spent two weeks every month in Mexico working with the interpreters. I had the chance to work on fabled giant fields such as the reefs of Faja de Oro, Poza Rica Field's carbonate sands, Chicontepec and too many other fascinating projects to name. I became quite good at multiplexing about 3-4 major projects a month. That will dust off your interpreter stripes pretty fast! Along with working with the interpreters as a mentor, I also gave classes on interpretation techniques, depth conversion, processing and interpretation of amplitudes, and the like. If somebody is wondering, I did not speak English while I was down there.
Now, I have a similar mentoring role with Ecopetrol in Colombia. Currently I am working the Llanos, Magdalena Valley, and Putumayo areas. It is interesting that some of these were old Tenneco areas that I consulted on!
You are a holder of 5 US patents. Could you briefly tell us about them? Did you get them all while you were at Western?
Yes, I got them when I was at WesternGeco. One of my patents was implementing an efficient datumization of seismic data prior to migration. Another patent was the work I just described on a dynamic correction for water-velocity variations. Other patents dealt with the marine acquisition issue of receiver-motion compensation. The other patents involved a statistical manner to condition the velocity field prior to migration and the dynamic correction of seismic data that preserves the angles of incidence on dipping data for AVO and inversion applications.
What is your take on getting patents for the inventions? Do they really help?
Good question. Most companies see patents as being defensive. Intellectual property is a major issue for most companies. Although patents may be the bane of the researcher they defend the work you have done, and that your company has invested in.
I notice from your list of publications that they range from prestack depth migration, depth-focusing analysis, migration through complex water bottom tomography, surface multiple attenuation, and subsurface imaging and so on. If I were to ask you what type of geophysical problems have interested you most, what would you say?
I think depth imaging issues are my main passion. Especially getting across the idea that all imaging should be in depth. There is no such thing as simple geology. It is a poorly appreciated fact that prestack time migration is a critically deficient tool for imaging. I have worked simple geologic "resource plays" where subtle lateralvelocity variations of one percent or more are enough to compromise the interpretive results. Additionally, after depth imaging, the well-calibration process remains. This yields insights into anisotropic issues that can further aid the imaging processing, but also the process of validating the interpretive data base. This remains my main focus.
Looking back at your geophysical career, could you share with us one or two of your exciting successes?
Tough question. Going back to my roots as an interpreter, discovering new fields has to be a peak moment. I think being involved in the discovery of Wild Horse Butte Field in the Wind River Basin of Wyoming was up there. I was with Tenneco working with the best team I could imagine. This was a Cretaceous Muddy Sand play based on amplitude analysis of 2D data. Back then applying map migration was considered high tech, but it worked. Being a consultant now makes that more difficult a question. I will fall back to my time as Manager of R&D at WesternGeco as being some of the most satisfying and exciting times of my career. I was able to support the best minds in the industry to create the software and support to solve important problems in the industry.
Could you summarize for our readers the current state of the art in the areas of prestack depth migration and imaging below salt bodies? What challenges are we still facing?
I must be honest that the GOM technologies are not my main focus. However, the advent of wide-azimuth (WAZ) surveys has had a major impact on the illumination issues classically associated with this area. Additionally, the wave-equation based multiple attenuation techniques, coupled with the inherent multiple-attenuation characteristics of WAZ surveys has yielded tremendous improvements in data quality and risk reduction. One of my newer clients is involved in the outbound portion of the Sigsbee Escarpment pursuing the Wilcox play. This will be a true challenge to imaging technology, and more importantly to the interpreters.
Very recently I have been working land 3D prestack depth imaging projects where VTI is being incorporated. This is a generational jump in technology. However, it brings the interpretive aspects of the process into play from the beginning. As I mentioned before, well calibration of depth images is a big part of what I work on with clients. The challenge has now jumped to real-time evaluations. This is exciting from an imaging point of view, frightening and challenging from an interpretive point of view.
Most geophysicists consider migration a difficult area to follow and so shy away from it. In your case, you have been quite active in it. Could you tell us how and why, etc.?
As an interpreter, one succeeds and fails by your ability to see into the earth. Migration is one of the key links. It is unfortunate that few understand the major disconnect between interpreters and processors. R&D folks are somewhere in the middle. When I was an interpreter, I thought I knew processing issues. In reality, I did not have a clue. This is a basic reality in our industry. I had the opportunity with Western Geophysical to take my interpretive insights and see the impact on imaging. Again, I gravitated towards depth imaging. Jon Claerbout's books had tutorials on algorithms, and I had the charter to learn. It is interesting that people think that depth imaging is the most advanced, sophisticated process. Quite the opposite. It is the simplest. Basically, a bit of data clean up and you launch into the interpretive process of depth imaging. The velocity field is your geologic filter for the image.
Since you have been involved with R & D in a major service company, in your opinion, do you think any important developments are possible in service companies where less and less R & D effort is now in place? If yes, what can we expect?
In reality, the opposite is true. With a few important exceptions, major oil companies have turned their back on most R&D. It is the service companies that now bear the brunt of advancing technologies. Sadly, at their own risk. I think further advancements in technologies are slowly coming forward since the service companies are now the oil industry's research arm. Waveform inversion for prestack depth imaging tomographic updates, reverse time migration, and the like are largely coming from the service side.
What changes have you perceived in our industry over the last 30 years that you have been around? I would like you to look back and tell us what comes to your mind.
From an interpreter's perspective, the ability to evaluate huge amounts of 3D data on a workstation in a timely fashion has had a dramatic impact on exploration cycle time. I remember picking 2D lines, time tying and correcting, depth converting, posting, and contouring—all by hand. It would be weeks to interpret a relatively sparse grid. I remember having dreams where I was picking data and writing down the times all night. Not a very restful night! Now, it is so much simpler.
In addition to visualizing the data, the ability to more dynamically interact with the well data base (tops and logs) has also aided in extracting more meaningful interpretations. Although imaging technology has certainly advanced, without the ability to visualize these volumes, the technology would be much more difficult to implement and nearly impossible to appreciate.
You have volunteered for professional societies like SEG and DGS. Why do you do this? I would like to get your viewpoint for our readers.
We, as professionals, gain from the insights of others through the medium of local society presentations and the Annual Conventions. My main contribution to the SEG was being the Technical Program Chairman for the Annual Convention in Denver in 2004. I now know why there are few repeat performances. However, the honor of being able to call together the 20+ technically best in the world to be the Session Chairpersons for the main technologies in Geophysics is an experience beyond description. We must share our insights and abilities with others. This makes me something of a rebel in the consulting world. However, what can be more rewarding than sharing your experience with someone else?
Scott, do you like teaching and have you taught any courses? If yes, then what type of courses do you teach and on what platform?
I am inherently a teacher. As a consultant, I mentor interpreters on basic integration of well control (synthetics ties), the methods and QCs for depth conversion, attribute analysis, and the like. I had this role with PEMEX for over 3 years and am currently in this role with Ecopetrol in Colombia. I find teaching and sharing the most satisfying part of my work.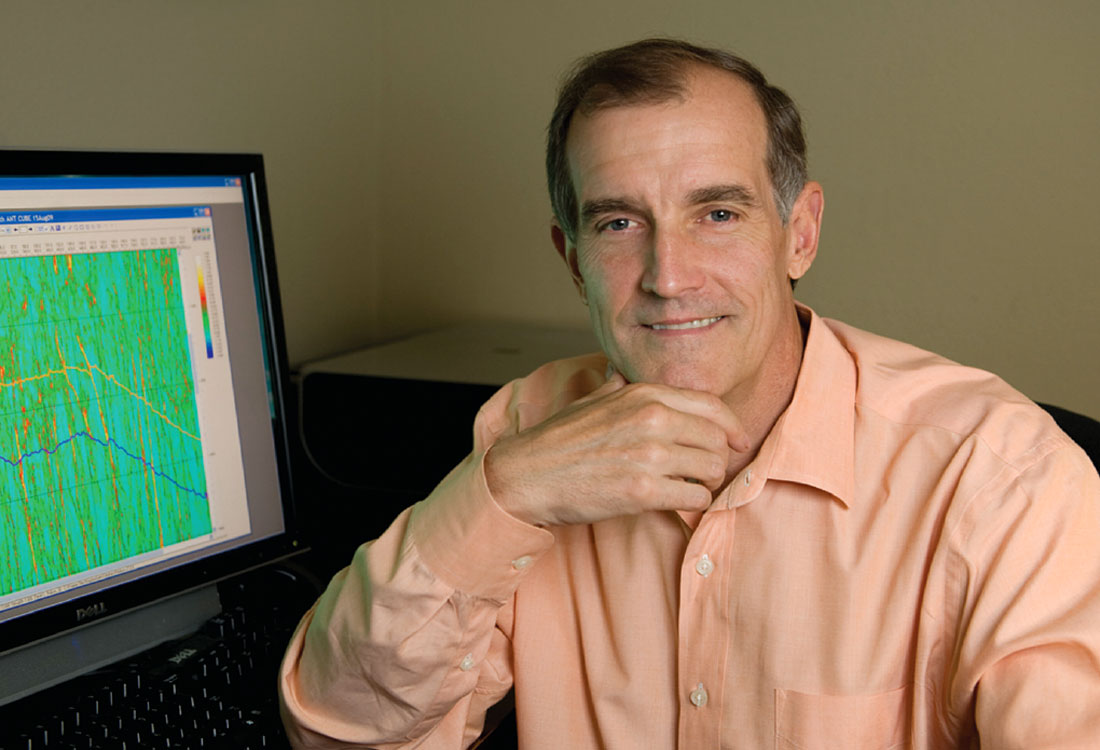 What other interests do you have?
My son jokes that I am a "Geophysicist by day, Geophysicist by night." Sadly true. I love what I do and find it deeply rewarding. Other interests? Well, I have been into martial arts for a while. I have Black Belts in Tae Kwon Do and Jeet Kun Do. Most folks do not know about Jeet Kun Do, it is Bruce Lee's approach to self defense. Basically, using using every dirty trick available. Do I have billing issues? No.
What would be your message for young entrants to geoscience? What are the most rewarding aspects of taking up a career in geoscience?
I will not gain many fans in the service industry, but I feel working in interpretation for an oil company is one of the main reality checks for a young career. I think that many service companies are now offering interpretation services, so this is not incompatible with most career paths. Basically, interpretation yields the link to the true reality of our industry.
Scott, thank you for giving us this opportunity to sit and chat with you.
I want to thank you for the opportunity to share my experiences with your readers. If nothing else, seeing someone who has spanned both interpretation and R&D may give some appreciation for the gap that we need to acknowledge and address in our interaction.