After effective execution of our first virtual event in 2020, GeoConvention 2021 positioned itself as a leader in connecting earth science professionals by hosting virtually through an immersive platform, offering a full technical program and collaboration from a world-wide audience.
Following the success of the 2020 virtual conference, specifically in growing international participation in the conference and in hosting a full conference worth of technical content, paired with the continued uncertainty of the pandemic, the GeoConvention board decided shortly after the 2020 conference that the best path forward for planning the 2021 conference would be to again host it virtually with the possibility of in-person components, should health restrictions allow. With this guidance and the support of the GeoConvention partner societies, planning commenced for the 2021 program with a focus on improving the overall virtual experience while driving a diverse technical program facilitating meaningful interactions and technical knowledge sharing.
Thanks on the awesome organization of the GeoConvention! Everything was so smooth, I loved the virtual [Conference] Center with the booths and the posters, and how easy it was to find and chat with people! I almost wish it stays like so - almost!
-2021 Conference feedback
GeoConvention 2021 benefited greatly from an amazing and diverse group of session chairs who worked diligently in soliciting content for their sessions. Sessions for the 2021 conference ranged from core geoscience fundamentals to international and local play-specific discussions in addition to conversations on Energy Transition, Helium, Lithium, Mining, Carbon Storage, Geothermal, Indigenous Partnerships and featured a full-day of Industry Leader fire-side chats with a wrap-up live panel, hosted by Danielle Smith. In total, GeoConvention 2021 hosted 63 sessions and over 400 presentations with presenters from more than 20 countries. A great deal of gratitude goes to the 2021 session chairs and presenters who volunteered their time in curating a technical program that 97% of post-event survey respondents rated as Good or Excellent.
This was my first GeoConvention, and Canadian energy conference. It was a great experience with many incredible technical talks. The Virtual platform was the best I've seen yet.
-2021 Conference feedback
Understanding that one of the major short-comings of a virtual conference is the networking and live interactions, the GeoConvention committee was keen to incorporate a new level of peer-to-peer communication for the conference. With this initiative in mind, GeoConvention built and integrated a new networking feature to the conference experience – GeoGather. GeoGather offered attendees the opportunity to have live session breakouts, visit exhibitors, view posters, watch showcase presentations, and play games, all while navigating the digital conference center. GeoGather helped in connecting attendees organically through random proximity-based interactions as attendees virtually walked through the platform.
GeoGather is a great platform and a great idea. You could walk into a room for a talk at a designated time, just like being there at the conference.
-2021 Conference feedback
GeoConvention was also very fortunate to have had the opportunity to host an opening in-person icebreaker the Friday before the conference kicked off. The Icebreaker was hosted on the Calgary Marriott downtown rooftop patio. The event was sponsored by Explor and featured exhibitor tables, food, drink and a very lively atmosphere where the Calgary earth science community was able to connect after nearly two years of having to stay distanced.
Another very important component to ensuring a successful conference is the exhibition piece. GeoConvention owes a great deal of appreciation to all the 2021 exhibitors who continued to support the conference and embrace the virtual platform. While virtual exhibition is understandably more difficult to realize return from, the 2021 exhibitors had an impactful presence, integrating booth talks, game codes and more while highlighting their brand, workflows, and technologies. Many Exhibitors had presence in both the conference platform and GeoGather, connecting live with visitors through video and screensharing. The list of 2021 exhibitors follows in Table 1.
Dollar for dollar, GeoConvention provides the best value and return of any conference we have virtually participated in. The ease of use and platform flexibility made our experience well worth the low cost of participating.
-2021 Exhibitor feedback
Table 1: Geoconvention 2021 Exhibitors
Advanced Logic Technology
Geomodeling Technology Corp.
AGAT Laboratories
GeoTomo
APEGA
Hydrocarbon Data Systems Inc.
Athena Subsurface
Loring Tarcore Labs Ltd.
Belloy Geologists - GazServ
Nanometrics
Cabra Consulting Ltd.
Newfoundland and Labrador
Canadian Discovery
Northwest Territories Geological Survey
Cegal Geoscience Inc
Open GeoSolutions
CGG
Petro-Explorers Inc.
Chinook Consulting
Pro Geo Consultants (BEST BOOTH WINNER)
DigitCore
Qeye Labs Canada Ltd.
Emerson
Sound QI Solutions Ltd.
Environmental Isotope Lab, University of Waterloo
WellSight Systems Inc.
GEO ExPro
Similarly to those who exhibited at the conference, GeoConvention would also like to offer our sponsors our sincere appreciation for their support. The past couple years have been difficult for many in our industry, but the commitment of our sponsors to the advancement of the earth sciences and the support they have provided GeoConvention and our partner societies is immeasurable. Every dollar contributed helps fund ongoing education, outreach, and student programs. The full sponsor list can be found in Table 2.
Table 2: Geoconvention 2021 Sponsors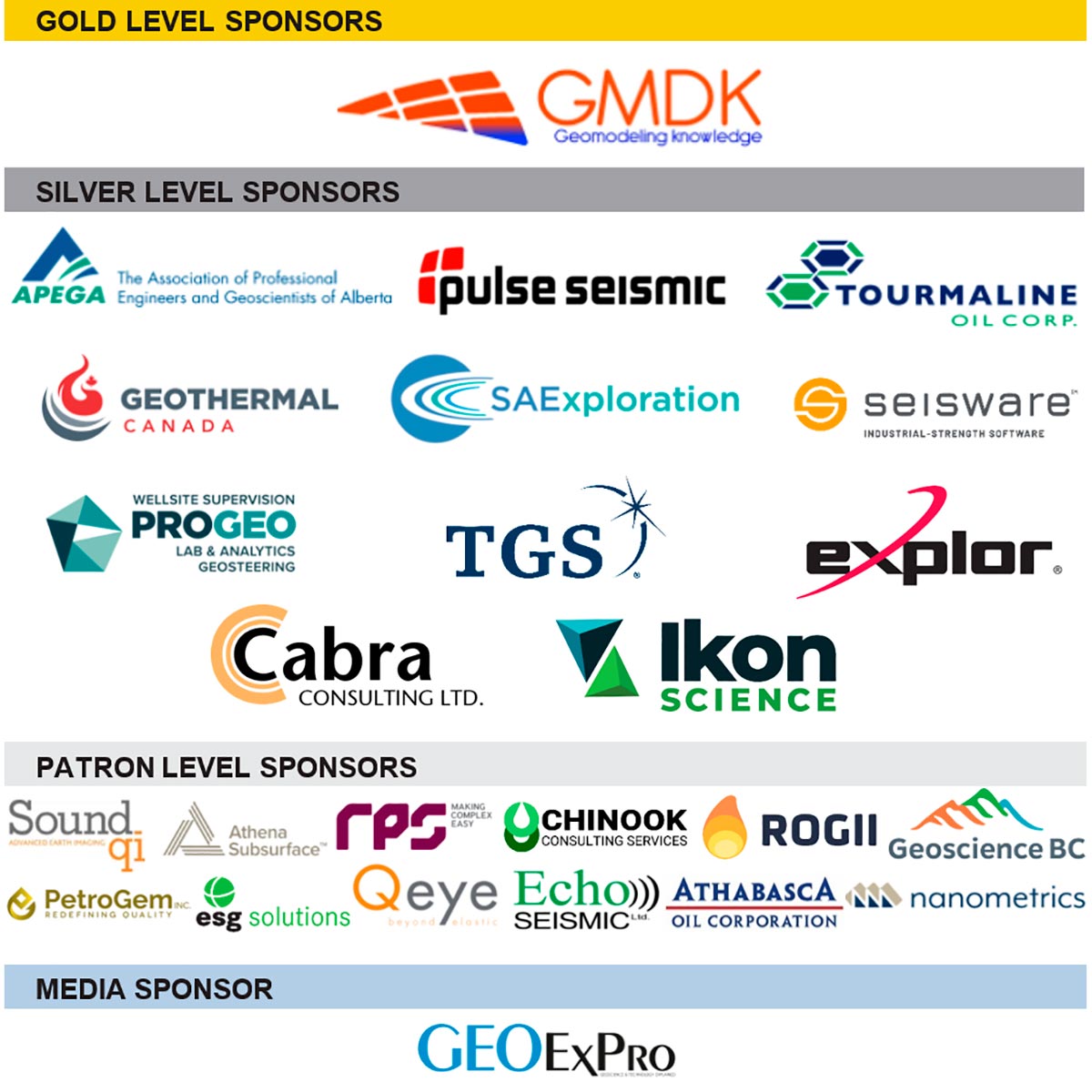 When all was said and done, GeoConvention 2021 hosted nearly 1200 attendees with another year of very strong international participation. As an added benefit to virtual delivery, all talks are available whenever and wherever you are; on-demand registration for full access to the 2021 technical program is still available: www.geoconvention.com/registration
In closing the overview of the 2021 program, GeoConvention would like to recognize the time and expertise of all our planning committee volunteers who all helped make the 2021 program a success, their ideas, outreach and advocation for the conference helped push the second year of virtual delivery to new levels, pushing the boundaries of what a virtual experience can be. The 2021 committee members are listed below in Table 3.
Table 3: Geoconvention 2021 Committee Listing
ROLE
VOLUNTEER
CSPG General/Technical Co-Chair
Victoria Biersteker
CSEG General/Technical Co-Chair
Paige Mamer
CWLS General/Technical Co-Chair
Gary Bugden
Posters Chair
Breanne Rathgeber
Committee Chair
Giselle Fonseca
Finance Chair
Spryng Kubicek
Social Media and Digital Production Chair
Chris Harrison
Social Media Co-Chair
Mary Zhang
Student Outreach Co-Chair
Adam MacInnis
Student Outreach Co-Chair
Mitchell Gillrie
GEOCONVENTION 2022
As we look forward to the 2022 program, based on the feedback of many of our attendees and with a directive to continue to grow our international footprint, GeoConvention 2022 will be hosted in a hybrid format where the conference will be hosted both in-person, June 20-22 at the Calgary Telus Convention Center and virtually through the GeoConvention conference platform. We look forward to being back in person for the 2022 event while still allowing the convenience of virtual delivery!
The Call for Abstracts is now open, and we encourage you to put your mark on our first-ever hybrid event and contribute to the 2022 program! www.geoconvention.com/callforabstracts
To keep up to date on GeoConvention visit www.geoconvention.com and follow @geoconvention on Twitter, geoconvention on LinkedIn and Instagram and GeoConventionCanada on Facebook.