The Board of Directors of the CSEG Foundation, the Fund Development Committee, and all of the CSEG volunteers who make our programs succeed, wish to thank you for your support and generous contributions. The following is a brief report on what your donations have helped to achieve.
The contraction of the petroleum industry since late 2014 has obviously impacted the CSEG and the Foundation. Fortunately, we are in a strong financial position. The June 30, 2016 financial statements show total equity of $2.06M, with an endowment of $1.513M. Our funds are invested in 13 GIC's as well as $590,000, which has grown to $734,000, in the Calgary Foundation Managed fund. We received donations of $205,000 last year. The December 2015 financial statements showed expenditures of $200,543 and revenue of $210,717. In 2016, we have budgeted for a shortfall of $95,800, which in June was projected to be $74,250.
We looked at our 2016 budget very carefully and made cuts of 25%. However, in consultation with the CSEG executive, we decided that this was not the time to make further reductions to our programs as our support is very much needed in difficult times. We realize that the Foundation must return to positive financial results as soon as possible, but our 2015 results and our projected 2016 results do not place the Foundation at risk. We were also concerned that our important volunteers could lose some of their enthusiasm if we cut back too much and we need to keep up our momentum.
Each of our programs has a budget, and the Foundation director responsible for it reports monthly on expenditures and revenue. Thanks to careful budget management, our expenses are $16,800 under budget for the first four months of 2016. Budgeted expenditures in 2016 increased to $328,526 because our statements now include the costs of Earth Science for Society (ESfS). We have also set aside $18,000 for special projects during the downturn. This fund is used to help unemployed or underemployed CSEG members attend our GeoConvention, Symposium and DoodleTrain courses.
Earth Science for Society shows students, youth, educators and the public the contribution of Earth Science in our daily lives through a dynamic, interactive exhibition. Unfortunately, we lost our ESfS funding from APEGA in 2015, so this year we applied for and received a Community Initiative Program grant from the Alberta Government. We also received a substantial donation from a generous anonymous donor to help fund ESfS, which has expenses in the neighbourhood of $125,000. ESfS at the Big Four Building, Stampede Park, continued to be a great success in 2015 and 2016. CSEG president Rachel Newrick took this video: https://www.youtube.com/watch?v=hopstAnI2Qc. Watch it and see what a great event your donations helped us create. We brought and guided nearly 1500 students from 13 Calgary schools, plus schools from Canmore, Okotoks and Crowsnest Pass. Close to 300 children and 70 chaperones from 13 youth groups, plus interested members of the public, attended on Sunday. All enjoyed the interactive activities and displays. Save the dates, March 19-21 for ESfS in 2017!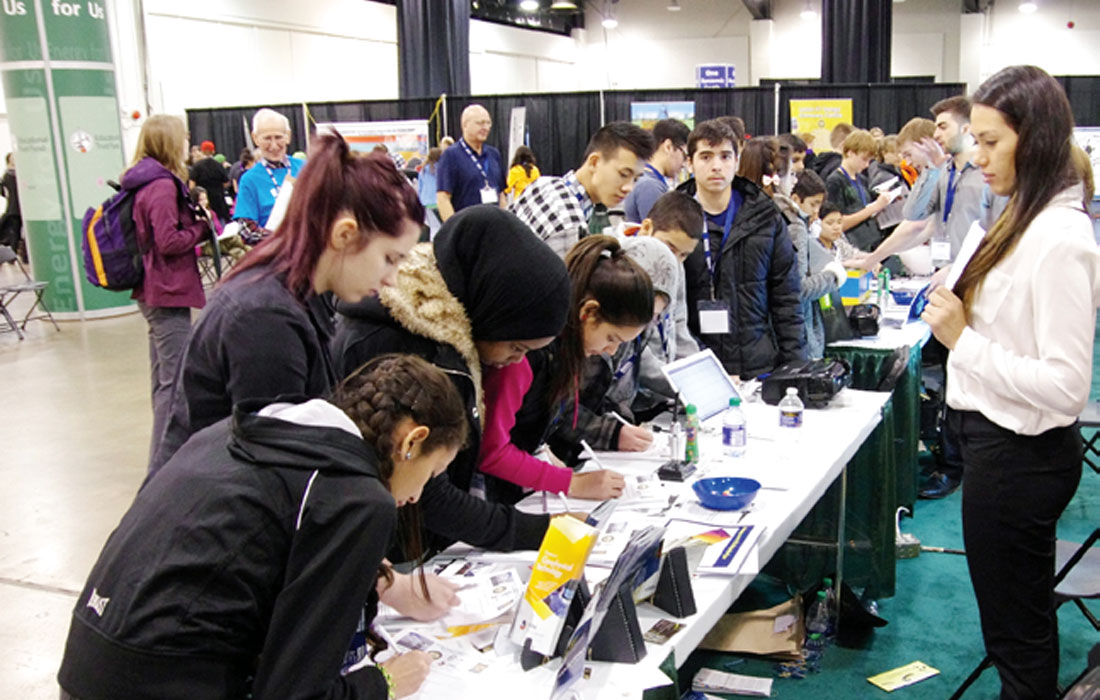 With the approval of the CSEG executive, we voted at our January 2016 board meeting to be the long-term parent organization for ESfS. We are currently re-applying to the Calgary Foundation for a Community Grant for the 2017 program. Derek Fraser, our fund raising consultant, helped with this application and we hope to secure it and build a relationship for future years. We continue to seek industry support for ESfS and would be grateful for any help from our donors in identifying possible corporate sponsors.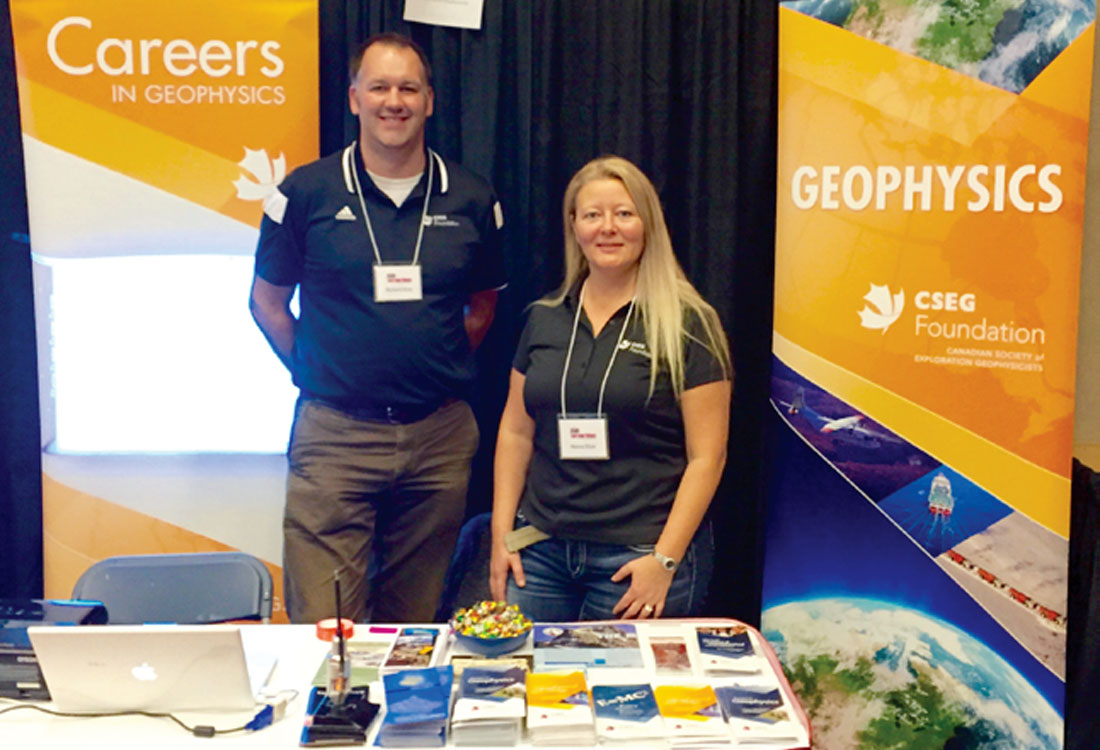 Public and Schools Outreach, although reduced, continued to be important programs, and volunteers attended 20 career fairs, science teacher conferences and assorted exhibitions in several provinces. University Student Outreach took its booth to five undergraduate conferences and the Canadian Geophysical Union conference. Outreach volunteers assisted the Honorary Address "Planetary Geology, Exploring Mars" in November. Our successful Mentorship program is in its seventh year. Also, TGLS (Travel Grants and Learning Subsidies) are part of our student assistance program. We help to send students to conferences and field trips, as well as subsidizing enrollment costs for courses.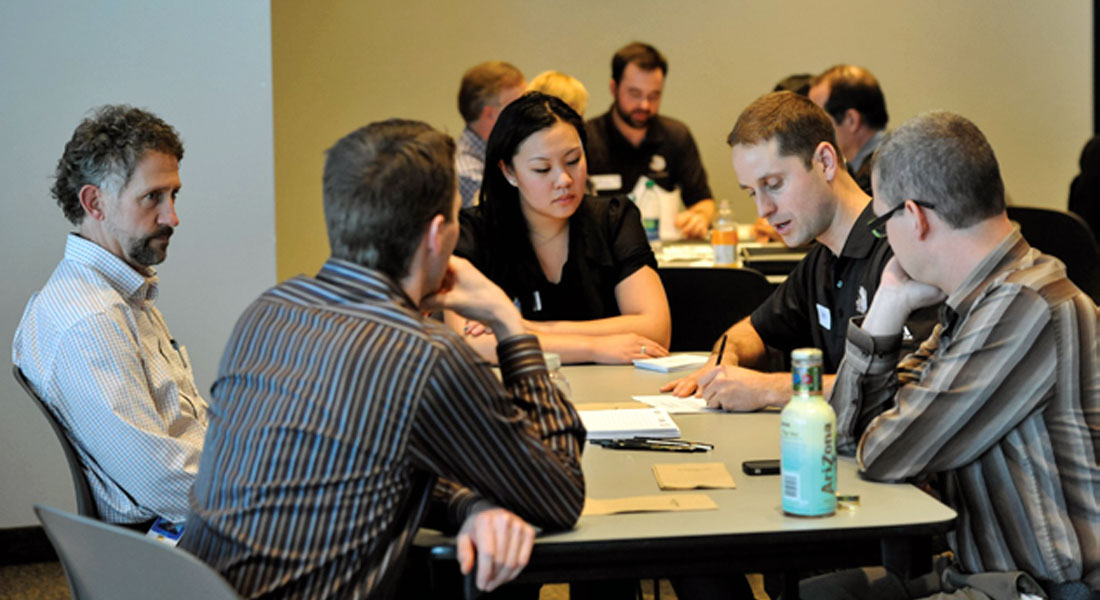 Mauricio Sacchi of the University of Alberta, whose research includes signal processing, inversion, noise attenuation and extracting information from seismic wave fields, was the Canadian Distinguished Lecturer in the 2015/2016 academic years. He travelled across Canada to lecture to geophysics students and faculty and has carefully managed his travel expenses.
Again in 2015, we helped the CAGC with its Seismic in Motion for Students event. On September 29 and 30, over 200 students from five schools were taken by bus from Calgary to Waiparous to learn about seismic field operations. They were split into groups, each with a volunteer guide, and visited various demonstration stations, which included a simulated helicopter rescue and a live explosives demonstration.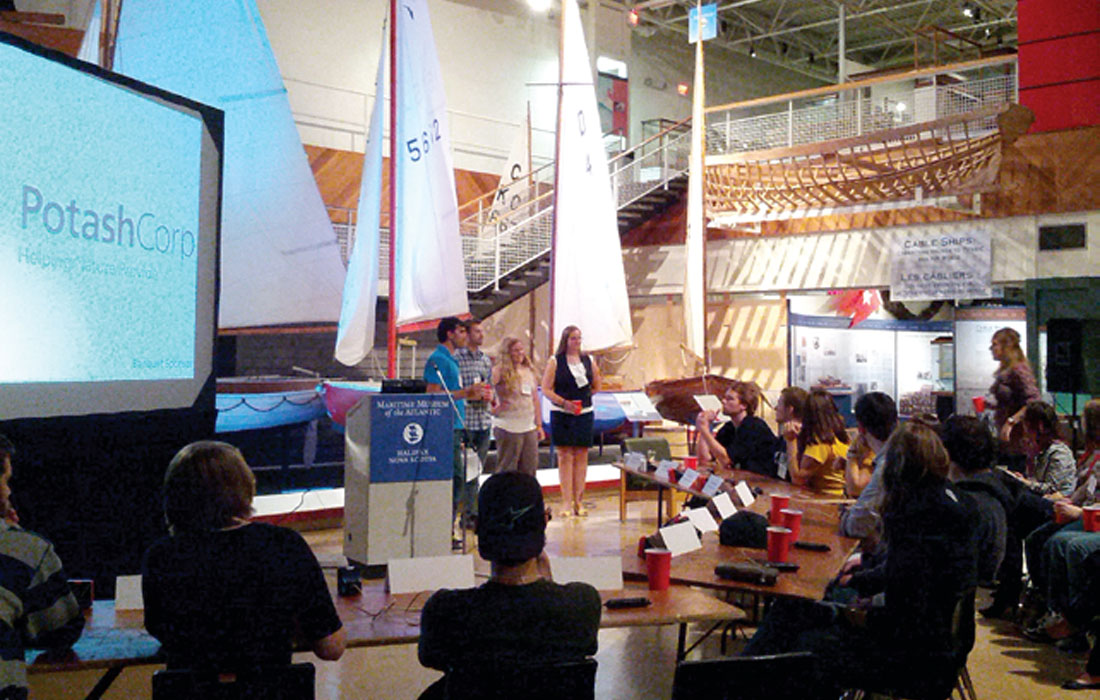 We received scholarship applications from 72 students and awarded 15. They were spread among eight universities, from New Brunswick to Victoria. One scholarship went to a technical institute student and three to high school graduates for university entrances.
The Geophysical Industry Field Trip is a multi-day event designed to demonstrate the design, acquisition, processing and interpretation of seismic surveys. In 2015, GIFT brought together 40 undergraduates from seven universities to network among themselves and industry professionals. They also spent one day on a geological field trip.
Even though we did not campaign for donations in this difficult year, we did receive donations of over $200,000, for which we are very grateful. It is important that we continue to build up our endowment funds. With the assistance of Derek Fraser, our fund raising consultant, we have also started to develop a Planned Giving campaign. Generous CSEG members who have donated to the Foundation may be interested in making the Foundation a beneficiary in their estates. We can provide information on ways of giving, and taxation. Watch out for more information on this new fund-raising initiative!
The CSEG Foundation wishes to acknowledge the generous donors who make our programs possible. Your support is critical and greatly valued. The following people and corporations have donated during the fund-raising campaign up to the end of 2015:
CHAMPION $100,000+
Anonymous, Andreas Cordsen, Athena Resources Ltd.
LEADERSHIP SOCIETY $50,000-$99,999
Larry Herd and Vicki Austin, Canadian Natural Resources Ltd., Annette Milbradt, John and Nancy Peirce, Brian and Elaine Russell
PRESIDENT'S SOCIETY $25,000-$49,999
Pulse Seismic Inc.
CHAIRMAN'S SOCIETY $10,000-$24,999
Anonymous, ARCIS Seismic Solutions, John Boyd, Brian Curtis, CGG Hampson Russell, Community Spirit Grant, ConocoPhillips Canada, Divestco Inc., Enerplus Corporation, EOG Resources Inc., Mike Galbraith, Imperial Oil, Tako Koning, Perry and Karen Kotkas, Matrix Geoservices Ltd., NEXEN, a CNOOC Ltd. Company, Pennwest Petroleum, Repsol Oil and Gas Canada Inc., Neil Rutherford, Seisware International Inc., Seitel Canada Ltd., Sigma Explorations Inc., Tesla Exploration Ltd.
DOODLEBUG SOCIETY $1,000-$9,999
Anonymous, Apache, APEGA, Martin Armitage, François Aubin, Bonavista Energy Corporation, Marc Boulet, Canadian Well Logging Society, Canmore Museum and Geoscience Centre, Cenovus Energy, CGG, Chevron Canada Resources, Michael Clement, Robert Comer, Kelley and Nathan Dahlby, Gregory Davidson, Devon Energy Corporation, John Duhault, Brian Emerson, Encana Corporation, Anthony Fink, Brent Gale, Don E. Gale, Geospace Technologies Canada Inc., Samuel Gray, Dan Hampson, Husky Energy Inc., Helen Isaac, Cecil Keeping, Garry Kelman, Kendall Geophysics, Matthew Klukas, Kohlhammer Subsurface Geoscience Ltd., Stephen Kotkas, Oliver Kuhn, Ron Larson, Don Lawton, Jennifer Leslie-Panek, Larry Lines, Glenn Malcolm, Larry Mathews, Robert McGrory, Kim L. Nevada, David Nordin, Osum Oil Sands Corporation, Paramount Resources, Pengrowth Energy, Perpetual Energy, Petrel Robertson Consulting, Petrobakken Energy Ltd., Petrobank Energy and Resources, Jack Pullen, Flo Reynolds, Laurie Ross, RPS Group, SAExploration, Nancy Shaw, Robert Sheppard, Sensor Geophysical, Shell Canada Ltd., Storm Resources Ltd., Suncor Energy Inc., Neil Thompson, Rainer Tonn, John Townsley, Frank van Humbeck
MEMBERS' SOCIETY $100-$999
Anonymous, Larry Adorjan, Fidelis Agbomedarho, Jeff Allison, Jonathan Anderson, Ian M. Baker, Ralph Bording, Charles Boyer, Jim D. Bushell, Douglas Campbell, John D. Card, Dale Cederwall, William Chaitan, Robert (Bob) A. Charters, Marc-Andre Chen, Tom Christianson, Douglas W. Clark, Kevin Collings, Penny Colton, Doug Colvin, G.A. (Sandy) Crawford, Michael Doly, Kathleen Dorey, Surinder Dyal, Elizabeth Earl, John Evans, Bruce Fenwick, Nilanjan Ganguly, Marcelle Gbomea Gouly, Hugh D. Geiger, Don J. Gendzwill, Donald Good, William N. Goodway, V. Richard Green, Ernie Greenwood, Matt Hall, Marian Hanna, H. Earl Hawkes, Paul Hebert, Ken Hedlin, Yajaira Herrera-Cooper, Andrew Holder, Blaine F. Holitzki, Lee Hunt, Terrence Jackson, Norman Kalmanovitch, Todd M. Knight, Pat Kong, George Kostashuk, Vaso Leci, Brian H. Link, Ralph Lundberg, Yongwang Ma, Desmond V. Maguire, Pierre and Christiane Marechal, Debra J. McDonald, Clif McLellan, Amit Kumar Mehra, Lawrence Mewhort, Billy Mitcham Jr, David Mitchell, Brian Montgomery, Mark Morrish, Rachel T. Newrick, Al Onia, Ernest Pallister, Bhaskar Pandit, David W. Paterson, Warren Pearson, Penycae Resources Ltd., Fred Peterson, Michael Perz, Tiffany Piercey, Debra Pitman, Dale Martin Rasmuson, William Redmond, Ian Reglar, Arnold M. Rivett, Larry Romanchuk, Patrick Ryall, Peter J. Savage, Kenney Schubert, Jason Schweigert, Seisland Surveys, Gordon Shugg, Donald Simpson, Kathryn Sloan, Tom Sneddon, Edward Stacey, Robert Stewart, Pascal St. Onge, Stephen Stretch, Robert M. Stuart, Gary G. Taylor, John Thorpe, John Troyer, Douglas Uffen, Timo Von Rudloff, Ian A. Watson, Richard Weir, Tammy Willmer, Richard Willott, Dino Zuzic
Another 128 Foundation supporters donated up to $99 each.