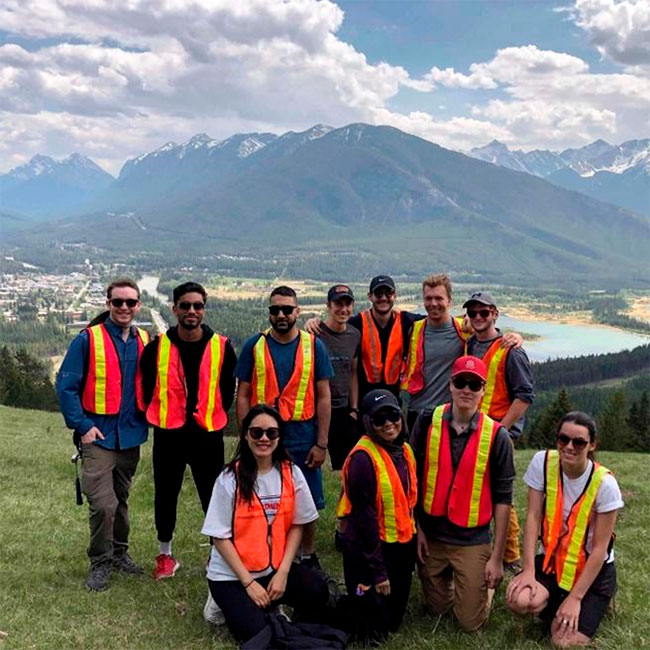 The CSEG Geophysical Industry Field Trip (GIFT) was an incredible experience for me and would be for any student passionate about geoscience. From the committee members to the industry professionals, the level of organization, knowledge and passion shown was incredible. Taking place Wednesday evening and through to Saturday, the program is run with consideration of the limited time students would be able to take off from work terms.
The program began with a banquet dinner and great networking event. The evening provided participants the opportunity to meet with the industry professionals, committee members, and fellow students. Thursday and Friday included seminars with topics that were industry-applicable like processing, inversion, microseismic, and machine learning, which was my personal favourite. Participants also had the chance to learn about seismic acquisition through an interactive demonstration of the tools and processes involved.
Software training sessions for Seisware and RokDoc were also included on these days and provided some valuable exposure to industry software that will likely be used by many of us in the future. On Friday afternoon we bussed to Canmore and had a nice barbeque on the rocks outside the Canadian Rockies
Earth Science Resource Centre (CRESRC) to cap off the day.
The geologic field portion took place on Saturday and was a perfect way to complete the program, as we got to see some rocks first-hand. Having an opportunity to see examples of rock formations and structures distinguishable on seismic helped us gain a valuable perspective on the scale and magnitude to expect when developing interpretations. The value of this great experience can not only be measured in the knowledge obtained but in the connections that can be made.
The importance of these contacts can often be overlooked by many people, but with the current state of the industry, even just one connection may be the deciding factor in getting an internship or full-time position somewhere. With the summer job market for geoscience positions constantly being flooded, if you want to stand out from the crowd of people, this trip can be a vital way to distinguish yourself. Especially while you're still an undergrad, there are many people just like you, just as qualified as you, just as good at interviews as you, and just as convincing that they're ready to break into the industry as you are. If you are not willing to put in the extra effort and participate in these types of events to separate yourself from your peers, you will be putting yourself at a disadvantage to those who do.
I look forward to giving back to the program this year as a GIFT committee member. I know many people who volunteered time out of their busy schedules to give me a first glimpse into the real-life applications of what I am studying, and I would feel privileged to return the favour.
About the Author
Cole Narfason is currently a Co-op student at Suncor Energy in Water & Closure Technology Development. He supports the development of innovative technologies that aim to reduce greenhouse gas emissions, clean up tailings ponds and reduce the impact to local wildlife within and surrounding Suncor's Oils Sands operations. He is in his 4th year at the University of Calgary, working towards a Bachelor of Science in Geology and Geophysics (Double major) with a Data Science minor. This past summer as well as participating on GIFT, he was selected to attend the Student Industry Field Trip (SIFT) put on by the Canadian Society of Petroleum Geoscientists (CSPG) and is on both organizing committees this year. He was awarded the Matt Bjarnason Memorial Prize for the best all-around student in the third year of the geology program and the GAC-PDAC Logan Prize. In addition to his many sporting activities and volunteer work, he is eagerly working towards a career in geoscience.